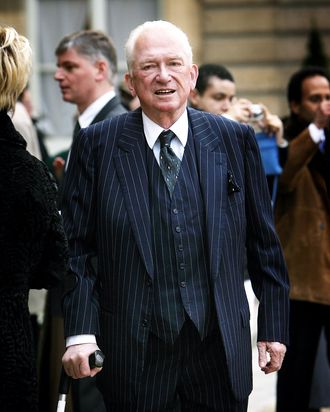 Jean-Paul Guerlain.
Photo: OLIVIER LABAN-MATTEI/AFP/Getty Images
Earlier today, a Parisian court convicted perfumer Jean-Paul Guerlain of making racist remarks on French television. He was fined $6,000 and must also pay $2,665 in damages to each of the three anti-racism organizations that filed the suit.
Guerlain's comments aired on channel France 2 in October 2010. While discussing the creation of his scent Samsara, he said, "I worked like a [n-word]. I don't know if [n-word] have always worked like that, but anyway." At the time, Guerlain apologized, saying, "My words do not reflect in any way my profound thoughts but are due to an inopportune misspeaking which I vividly regret." During the trial, the 75-year-old again said he was sorry, explaining, "I am from another generation," adding, "I was anything but racist," the Guardian writes.
Guerlain retired from his company in 2002, and LVMH, which owns the brand, was quick to distance itself from Jean-Paul last year. Funny how that worked out.