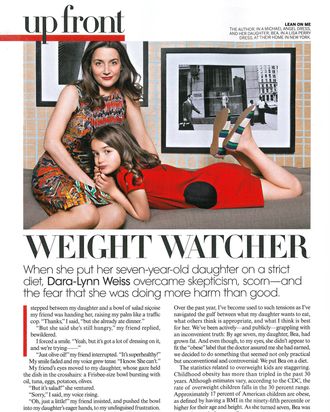 Dara-Lynn Weiss's Vogue article.
Photo: Christopher Katke/Vogue
Dr. Joanna Dolgoff, a pediatrician and child obesity specialist, already set the record straight on Good Morning America that she doesn't approve of the way "diet mom" Dara-Lynn Weiss forced her 7-year-old daughter, Bea, to lose weight. Weiss wrote in Vogue's April "Shape" issue that she used Dolgoff's Red Light, Green Light, Eat Right diet (or "nutritional program," as Dolgoff calls it) on Bea, and now Dolgoff wants to clarify a few things — which is understandable, given the backlash against Weiss's article. In a post she published on the Huffington Post last night, Dolgoff writes:
While I do commend Ms. Weiss on certain aspects of her approach (such as limiting her daughter's overall intake of junk food and promoting the consumption of fruits and vegetables), I believe she did fall short of carrying out many of our program's core attributes. The success of my program is based upon its promotion of flexibility and sensitivity … not severity and emotional distress. Not only did the article fail to capture our core philosophies, such as empowering children and advising parents to refrain from embarrassing their kids in public, it also did not show the flexibility of the program, which allows kids a number of indulgences to enjoy with friends every week.
Although Bea was enrolled in Dolgoff's program — which involves weekly checkups — Dolgoff says Bea didn't complete all twelve weeks and missed a number of visits.
The "Red Light, Green Light, Eat Right" program teaches families how to make healthy choices on their own. We ask families to commit to a minimum of twelve weeks on the program so the healthy choices they learn have time to become lifelong habits. Unfortunately, Bea did not continue her visits for the full length of the program and she missed out on many of the additional benefits our program offers.

While our chief aim is to help children achieve their weight loss goals, "Red Light, Green Light, Eat Right" is not just about nutrition and weight. Weight loss (for adults and children alike) is emotional. Weekly visits with our practitioners give families the support they need as they navigate these tricky waters.
These weekly visits might have also helped Weiss confront her own food issues instead of sharing them with her 7-year-old daughter. Too bad it's too late now.
Related:
Forcing Her 7-Year-Old Daughter to Diet Landed Dara-Lynn Weiss a Book Deal
A Mom's Reaction to Vogue's Story About a 'Fat' 7-Year-Old Girl 
Garance Doré Shares Her Thoughts on Vogue's Diet Mom