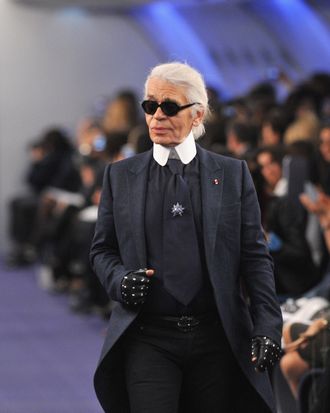 Oh, Karl.
Photo: Pascal Le Segretain/Getty Images
Are you growing bored of this post-fashion-month news lull? Well, rest assured that Karl Lagerfeld is here to alleviate your ennui by throwing lavish parties in far-flung places and saying even more ridiculous, borderline offensive things. Last night, he hosted a fancy gathering in Japan to celebrate his new photography book, The Little Black Jacket, where he made some blanket statements about Japan's population. Namely, the increasing size of Japanese people thanks to the influx of junk food.
[Japan has] changed a lot but it's changed for the better I think. I noticed that people became bigger than before because now they eat more cake and sweets and things like this that they didn't do in the past. There's a real change in the look of the Japanese people. Normally, before, they were all tiny. It's the kind of beauty you get from junk food.
Not that Karl would even dream of touching such things, of course. He won't even eat rice, reports WWD:
"You know I don't eat bread, I don't eat sugar, I don't eat meat, so for me, the Japanese kitchen is perfect," he said. Although he made one noteworthy exception. "I hate rice," he said emphatically, recalling a time when he had to eat a rice-only diet for 11 days to recover from an illness. "After that I could never have rice again in my life."
When he's not avoiding carbs on his trip, Lagerfeld will show his latest collection in Tokyo and open a Chanel pop-up shop in the city's Omotesando district — er, excuse us, an "ephemeral boutique." Perhaps this means that next season's Chanel show will be called an "ambulatory performance" or a "parade of vestments."