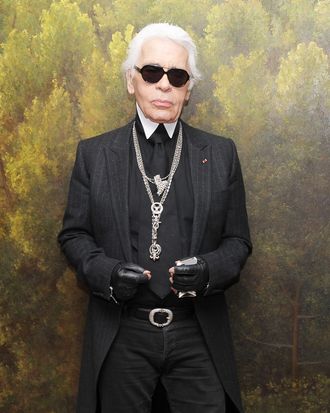 Karl Lagerfeld, ready to rumble in Japan today.
Photo: Jun Sato/WireImage
After Robin Givhan proclaimed Karl Lagerfeld to be "overrated" in Newsweek this past January, she experienced a fallout that happens all too often in the fashion industry (never mind that her piece, being a thoughtful and well-researched piece of journalism, also said numerous positive things about the designer). First, Lagerfeld dismissed Givhan — the first fashion writer to ever win a Pulitzer Prize — by saying he'd never even heard of her. She was then relegated to a bad seat at the Chanel show instead of her usual front-row spot.
Perhaps even more to her credit, Givhan was perfectly good-natured about her "punishment," because she's (a) a savvy enough veteran to expect that kind of retaliation for criticism and (b) wise enough to take the high road. Karl was not so willing to move on, however. In a news conference in Japan today, he responded to a journalist's question about Givhan's piece by lashing out at Newsweek and its editor, Tina Brown. WWD reports:
Asked by a journalist from Indonesia what he made of a recent Newsweek story claiming that he is overrated, he fired back: "First of all, Tina Brown's magazine is not doing well at all," he said before ripping into the credibility of the story. "She is dying," he continued. "I'm sorry for Tina Brown, who was such a success at 'Vanity Fair,' to go down with a shitty little paper like this. I'm sorry."
Sorry, indeed. For Lagerfeld to twist Givhan's intelligent criticism into a personal attack on Tina Brown says far more detrimental things about his character — and perhaps even his career — than anything Givhan would ever write.