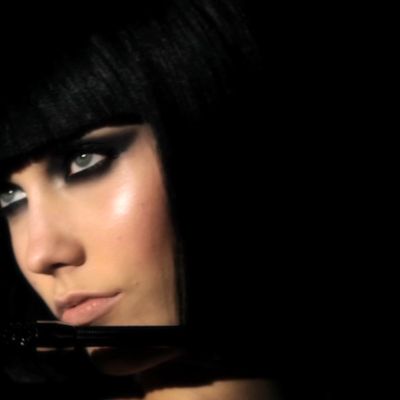 Karlie Kloss and riding crop.
So, what was Karlie Kloss up to instead of walking runways this past February? Lolling around sexily in a new video called "Fuck Me," it seems. As the title suggests, the video makes no bones about its theme, which involves Karlie wearing lingerie and writhing around on a bed with her hands tied to the headboard. It's part of SHOWstudio's new exhibit, "Selling Sex," which features works by women in fashion (including Amanda Harlech, Daphne Guinness, and Dasha Zhukova) that confront "the contentious and provocative fusion of fashion with fetish."
Mission statement aside, this film, created by Ruth Hogben, is pretty hot. If you can take your attention off of Karlie's bedroom eyes for a second, you'll notice that the video's execution (which includes an intense electronic soundtrack and lots of fancy camera work) plays a big role in what makes it so mesmerizing; one can't help but think that Tom Ford's latest video really should have been more like this.
Also of note: There's no nudity. Considering all of Karlie's come-hither poses, riding-crop-fondling, and other fetish-related antics, showing a boob might come across as gratuitous or even pornographic; in other words, there's enough sexual tension as it is.
Update: you can see the full video here.