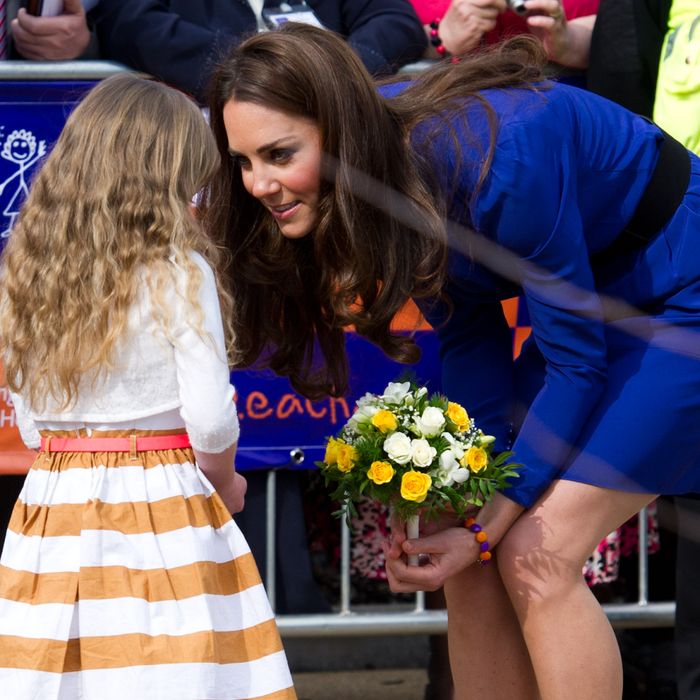 Kate accepts flowers from a child at the Treehouse Hospice in Ipswich, England.
Photo: Ian Gavan/2012 Getty Images
On Friday, Kate Middleton was reunited with Prince William after his six-week military deployment in the Falklands, thus concluding the longest time period she has spent without him since their engagement. But who even noticed William's absence, really? While he was away, Kate made her first solo official appearances, flashing her dimples and charming her way through a much-fussed-over schedule of royal outings that culminated with her first-ever public speech. Her movements caused just as much (if not even more) hullabaloo as ever, and she carried herself with her usual unerring graciousness. In short, Kate without William is the same as Kate with William: she remains the unflappable, perfect duchess no matter where she is or who she's with.
It's been almost a year since the royal wedding, and we now know not to expect any surprises from Kate. She plays it safe almost to a fault. This is surely a combination of her own eagerness to live up to the standards of her public role as well as the exacting decisions of her handlers at the palace. Every grin, wave, and outfit seems immaculately planned. Luckily, her photogenic demeanor saves her from looking fake or insipid; instead, she comes across as a good sport (last week, she gamely laced up her sneakers and whacked around a field hockey ball with the British Olympic team, smiling all the while).
Nothing exemplifies Kate's public vibe better than her speaking debut, which was sweet, well-meaning, and utterly bland. Dressed in a prim, tasteful blue coatdress by one of her staple clothing brands, Reiss (which has benefited hugely from her patronage and, just days later, announced an aggressive U.S. expansion plan), Kate addressed a small audience at the Treehouse Hospice, a home for sick children in Ipswich, England. If she was nervous — as she surely must have been — the brief pauses she took between phrases to look down at the prompter on the podium were the only giveaway. Meanwhile, the content of her speech was unmemorable: Kate praised the Treehouse's cause, thanked them for inviting her, and emphasized how much her husband would approve of the charity.
Kate's obvious devotion to William is yet another hallmark of her squeaky-clean image. Indeed, their marriage remains fairy-tale perfect, the stuff that little girls dream of. Will bought her a puppy! He takes her for walks on the beach and tells her that she's beautiful! He made her royalty! In the Kate and Will story, the nice girl wins, and therefore the world wants her to be nice forever. Kate may have no edge, but of course happy endings rarely do.
Kate's decorum must come as a huge relief to the palace. After the scandals of the Diana era, followed by the lesser indignities of Prince Harry's various missteps (dressing as a Nazi for a costume ball in 2005, for example) and rumors about both princes' love lives, the royal family and its employees must be over the moon about Kate's ability to gracefully straddle propriety and popular appeal. It's perfect timing, too: Today, Kensington Palace reopened to the public after a two-year, $19 million renovation (refurbishments were funded by a combination of trusts and donations). The palace now stands to raise a lot of money thanks to its Kate-fueled popularity — admission costs £14.50 per adult. Meanwhile, the Queen's Diamond Jubilee tour has certainly benefited from Kate's involvement.
Now that Prince William is back, it'll be interesting to see how Kate continues to shape herself as an individual in the public eye. After all, she's now far more powerful than he is in several arenas (her ability to sell magazines, generate web traffic, and send a brand's clothing sales through the roof in a matter of minutes all far exceed his). She's clearly committed to putting her power to charitable uses, albeit very safe and socially acceptable ones that have no doubt been well vetted and met with the palace's approval (which is hardly something to criticize her for, of course). It seems clear that Kate will go down in history as "the perfect princess" — consistently lovely, kind, and beautiful —  and it seems that's just the way everyone wants her to be.