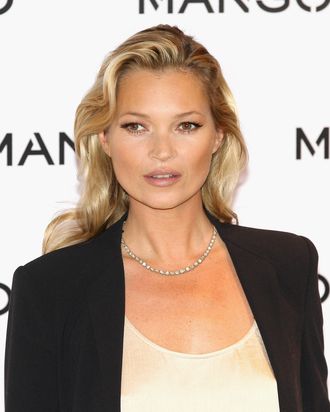 Kate Moss.
Photo: Chris Jackson/Getty Images
This week's New Yorker studies the ascendancy of the Daily Mail, Britain's most powerful newspaper, with 4.5 million readers and a website more popular than the New York Times'. On most days, wedged between the country's hard news and a "beguiling lineup of novelty stories," as Lauren Collins calls it ("the Mail is the place to go if you want to see a house that looks like Hitler, or a tabby with its head encased in a slice of bread"), will be an article about one of the Mail's favorite subjects: Kate Moss. The website pulls up 3,857 results after typing in the supermodel's name — blurbs on her previous relationship with Pete Doherty; analysis of her outfits, which seem to be either see-through, too tight, or bikinis, or some combination of the three; and this "Face in the Life" feature that dropped right around the time of her wedding last year. Talk about gifts you're better off not giving.
So what does Kate make of her recurring, likely-unwanted column? The New Yorker writes:
On January 25th, the model Kate Moss went to some parties in Paris. The next morning's Mail read, "The Croydon beauty had very obvious crow's feet and lines beneath her eyes as well as blemished skin from years of smoking and drinking." Another journalist, interviewing her that day, asked why she thought the Mail was so focussed on her aging.

"I don't know. 'Cause it's the Daily Mail?" Moss replied. "They just get on everyone's tits, don't they?"
Somehow, this wasn't the next day's headline.