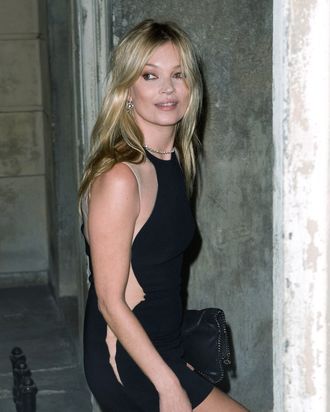 Kate Moss
Photo: Samir Hussein/Getty Images
Somebody get Piers Morgan a fork and a knife; it's time for the television presenter to eat his words. Less than 24 hours after he called Kate Moss a "spoilt little madam," and a "vile … creature," the supermodel seemed pulled-together and quite relatable in an interview about her personal style. Okay … more like mind-numbingly normal! When did dear Kate get a crash course in how to talk to the press? 
The following are actual quotes culled from her latest sit-down:
"If you find a look that works for you, stick to it."
"It's important to have some inspiration or a reference point when you're dressing."
"Even if you do tend to wear the same things all the time, it's how you wear them and your attitude that counts."
"If you're going to an important dinner, you should plan what you're going to wear as you don't want to look silly."
"Sometimes it's more important to be well presented than to be comfortable."
Bonus banality: She also shares husband Jamie Hince's favorite dressing tip — never pair a hat with sunglasses, because you'll look like you're wearing a disguise.
Inspiration? Attitude? The re-telling of your hubby's cheesy quip? Let's chalk this up to some stellar editing and say it never happened, since it likely didn't, at least not punctuated by four-letter words, dirty jokes, and cigarette smoke.