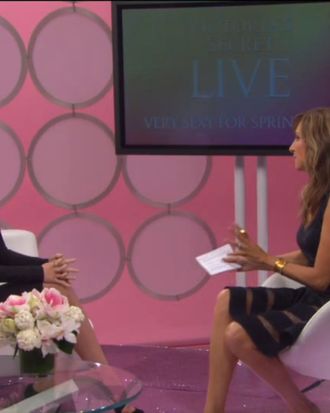 The crowd at last night's Victoria's Secret live-stream arrived hungry. The e-mail invitation promised cocktails and hors d'oeuvres at 8 p.m., but after 30 minutes of stomach-growling it became clear that this meal would be skipped — the first of several Angel life lessons, both intentional and inadvertent, learned at the event.
The evening turned out to be a talk show of sorts, complete with a glittery pink set, hosted by the vice-president of Victoria's Secret public relations, Monica Mitro. Guests included hairstylist Italo Gregorio and makeup artist Meredith Baraf, who were tasked with giving a Very Sexy makeover to People.com Style News editor Kate Hogan (and it nearly couldn't be accomplished in the allotted hour, because it obviously takes more time than that to become Very Sexy with capital letters). Meanwhile, Pure Barre founder Carrie Rezabek Dorr stopped by for the exercise segment; VS photographer Russell James told stories from his past careers as a trashcan-maker, dog trainer, and policeman; and Oz Garcia said some stuff about food but — of course! — had to be stopped short when they ran out of time.
Monica also sat down with the super-talkative Miranda Kerr and the always-charming Erin Heatherton. We caught up with the ladies afterwards to discuss the secret Victoria's Secret Model Pregnancy Pact. "I don't understand how it all happened, but yeah, it's such good news," Miranda said of Adriana Lima's big announcement. "I wasn't even sure if I wanted to come back to work or not, when I had my son. And now, you know, I work so much less than before I was pregnant. That's the choice I made. Flynn is my priority — being there for him, making sure that I can cook for him, spend time for him, more important than anything else." Erin added, "Is it in the water? Because I need to buy my own water. I don't know what is going on … They're dropping like flies. Who am I going to hang out with now? It's scary." She's already lining up the babysitting gigs, though. She added, "All their kids are going to watch my dog someday. It's going to be great."
Also great? The snacks (finally) on the way out.