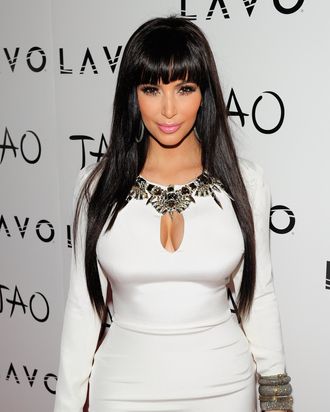 Kim Kardashian.
Photo: Steven Lawton/FilmMagic
Kim Kardashian cofounded ShoeDazzle back in 2009, when its business model was fairly innovative: Subscribers paid $39.95 each month for a new pair of shoes, as "recommended" by Kim herself (if none of the shoe options struck your fancy one month, you could "save up" your voucher and get an extra pair some other time). But apparently the monthly business model has cooled off lately. First of all, lots of other people started doing it (see the entire "mint" enterprise); not to mention, don't subscribers reach a saturation point where they just can't possibly stuff another pair of cheap platform pumps into their closets?
Ever proving Kardashian's ability (or well, her managers' abilities) to market herself in new ways, ShoeDazzle is ditching its monthly subscription model and ramping up its ability to provide "personalized" recommendations for each customer. They're also expanding into new categories like dresses and lingerie. Reports Fast Company:
The site's personalization and pampering strategy … is perhaps the real key to the company's astronomic growth. Over the last year, the site's number of "members" has tripled from 3 million to 10 million …

Every month, the ShoeDazzle system culls its new inventory and drops a curated selection into each user's personal "Showroom." The curations are based, initially, on a survey the user fills out to establish their taste profile. Over time, the recommendation algorithm gets more sophisticated as it takes into account the user's actual purchases. The result is a collection of items users feel have been handpicked just for them.

[ShoeDazzle CEO Bill Strauss*] calls this experience akin to one you'd receive at a high-end boutique, where salespeople know your name and your tastes. "If you walk into a boutique, and they say, 'These new shoes just came in, and they fit your style and personality,' you feel good about that, and you're more likely to buy," Strauss says.
So, rather than pushing a curated selection of shoes on a monthly basis, the revamped ShoeDazzle will push a curated selection of footwear, dresses, lingerie, and other products on its customers all the time! How novel. Of course, Kardashian is still onboard, and Strauss says he's getting other celebrities to sign on, too (most recently, Denise Richards and Kristin Cavallari). 
In other news, it's probably only a matter of time before all retail websites follow this practice of automatically recommending things to you based on your size, brand preference, and past purchasing history. Which will be convenient, sure, if not more than a little bit creepy.
Related: Kim Kardashian's Shoes Not So Popular in the U.K.
* This article has been changed to reflect a correction to Bill Strauss's name and to show that the monthly price point is $39.95, not $39.99 as previously stated.