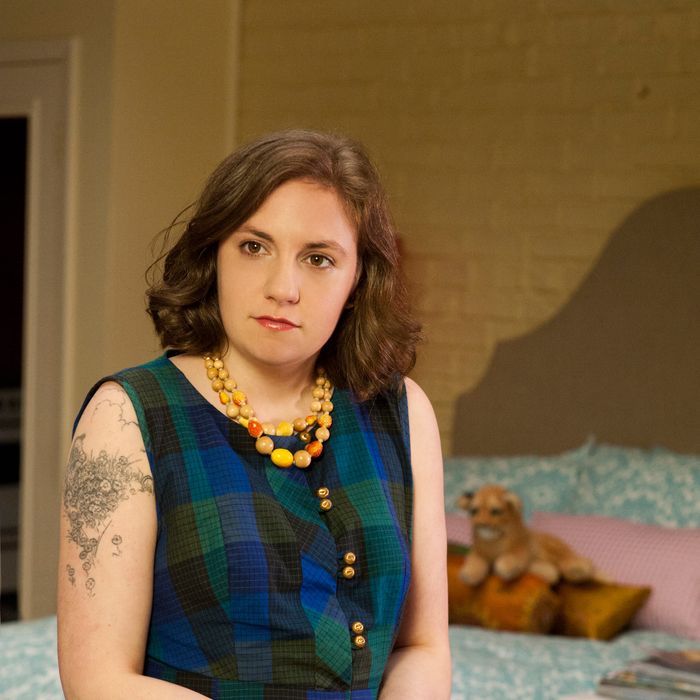 HBO's forthcoming series Girls has been called — somewhat ridiculously — "the anti-Sex and the City." But in terms of the show's wardrobe, that juxtaposition makes sense. Lena Dunham, the show's 25-year-old creator, writer, and star, has never been one to glamorize her characters. Unlike the women on Sex and the City (and for that matter, those on most TV shows), the stars of Girls are meant to be as realistic as possible, even when that calls for sweatpants and ratty T-shirts. So, how did the show's costume designer, Jenn Rogien, develop the warts-and-all look of the characters, described in this week's New York cover story as "four friends, adrift in a modern New York of unpaid internships and bad sex on dirty sofas"? In some scenes, she says, "it was about finding just the right pair of gross underwear." Learn about each character's wardrobe in our slideshow.
So, what was it about Girls that attracted you?
A lot of it had to do with Lena. I was in my car one day, and I heard her on NPR talking about the possibility of this show, and I thought, Wow, this girl is so smart and so clever, and this is exactly the kind of project that I want to work on. I was incredibly lucky to be around when they were looking for a designer because I was into the show way before they even got to that point.
I know that there's also a lot of emphasis on Lena's body, and she has a number of nude scenes. What was that like for you as a costume designer?
Usually when it's a nude scene, we're like, "Woohoo, no clothes!" But we actually did a lot of thinking about those scenes for this show. We wanted to enhance the sex scenes when it was called for, but we didn't want to distract when it was supposed to be something else — a little raw and sometimes a little goofy and sometimes a little awkward. Lena is incredibly comfortable with her body; I wish I had half of her confidence when it comes to her body. So there were some scenes with no wardrobe at all, and then there were other scenes where she's in bed and it was about finding just the right pair of gross underwear — really playing against the sexiness of being in bed when it's not supposed to be sexy. In this show, it wasn't about finding the prettiest lacy bra for a sex scene.
So, a lot of the characters in Girls are supposed to be fresh out of college. How were you able to make that look realistic?
We really did want them to be realistic and approachable, but we still wanted to elevate their look just a smidge so that was in the world of a TV show. We wanted to show the raw, slightly gritty girl that Lena had created, and we also just wanted it to be funny, you know? Script-wise, there are such great things happening there already, so we didn't want to distract or embellish unless the writing team asked for it.
How did you research the costumes?
I spent a ton of time trekking through Williamsburg. I live in Brooklyn, so I spent a lot of time just looking at people as I was going about my day. In the story, the girls live in Greenpoint, but one of them works in Manhattan, and Hannah [Lena's character] has an internship in Manhattan, so we wanted to find clothing that would support that kind of existence. We did a lot of online research, and we looked at everything from the Sartorialist to Etsy.
What kind of role did the actors have in their own wardrobes?
They were fantastic. I was very fortunate to have three or four fittings with Lena, which is incredibly rare on a modern show, so I used every second of that time to get her insight and just get to know her. She was also able to tell me the stories behind the other characters, and that was incredibly helpful before I shopped for things for the other ladies. But each one of the actors brings an amazing amount of insight to the table. They are these girls that they're playing, and they know what works for them and their bodies. That's half the battle.
So you wanted the clothes to be realistic, but you also wanted to make them TV-appropriate. What does that mean?
We still approached it as a costume, so we did do alterations, which is something that a lot of everyday ladies don't have the budget or don't have the contacts to do. For the characters that are supposed to look good, we wanted them to look great; for the characters who are supposed to be disheveled, we wanted them to look disheveled in the right way.
Related: It's Different for 'Girls'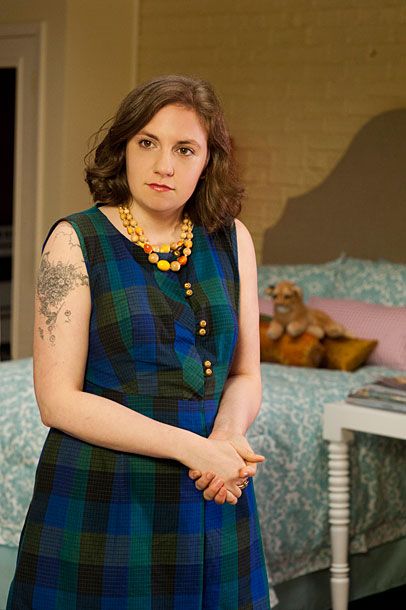 Hannah, played by Lena Dunham.
"We shopped a lot at Atlantis Attic and Beacon's Closet because part of her look is thrifted, and part of her look is vintage. We also went to Anthropologie and to J. Crew and to H&M. We really tried to be true to the circumstances of the character. She may have had money to spend before, now not so much, but she's trying. We wanted to play into her non-pulled-together world, but we didn't necessarily want her wardrobe to be scattered, so there are certain consistencies: There's a vaguely seventies palette with some mustard, some mauve, some avocado-y greens, and a feminine, disheveled quality. Even though there's a lot happening with Hannah in the storyline and she finds herself in a lot of different places, her look should still allow the audience to identify her."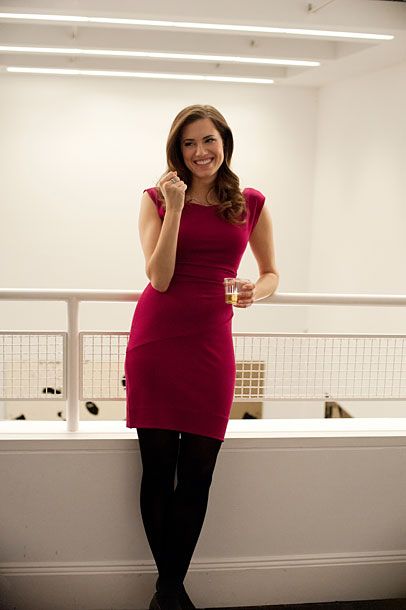 Marnie, played by Allison Williams.
"Marnie is the working girl, so we spent a lot of time figuring out what that means for someone who's young and who's just come from college and is starting her first job. She has somewhat of a budget; she's not working in finance, she's working in a gallery. We went to Lord & Taylor, which is one of my favorite institutions in New York for shopping because they have a little of everything. And then we filled out with brands like Elie Tahari, who have working-girl staples that look really great on Allison and accessories that make her look polished but not overwhelmed. We also went in for some Rebecca Taylor because it's that perfect line of young, youthful, a little sexy, professional, and polished clothing – and that's very Marnie. Marnie also loosened up a little bit over the course of the season, so she started off looking a little bit too put-together, and then we went for more relaxed pieces as the story unfolded."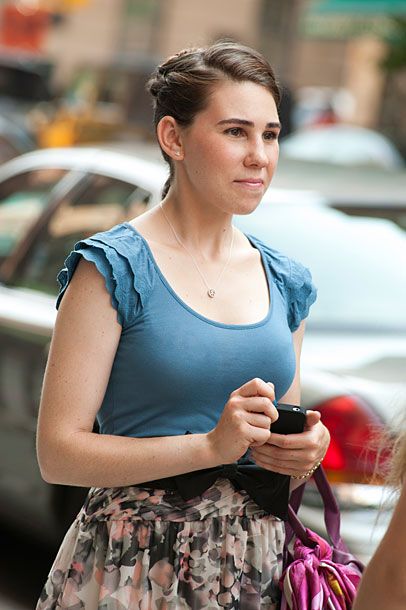 Shoshanna, played by Zosia Mamet.
"Shoshanna is an NYU student and is definitely our most on-trend character in terms of fashion speak. She's more influenced by what's happening in current fashion and what's in the stores, and she's also our most overtly feminine character. Our challenge was that we wanted to help underscore the comedy of who Shoshanna is and her worldview, but we didn't want to make her into a caricature or seem too frilly or too girly. For her, it was a very soft color palette. I actually worked off this beautiful layout in a magazine that had spring's cosmetic colors, like a wash of nudes, ballet pinks, and some soft teals, and a little bit of black – feminine, soft colors that ended up working great on Zosia."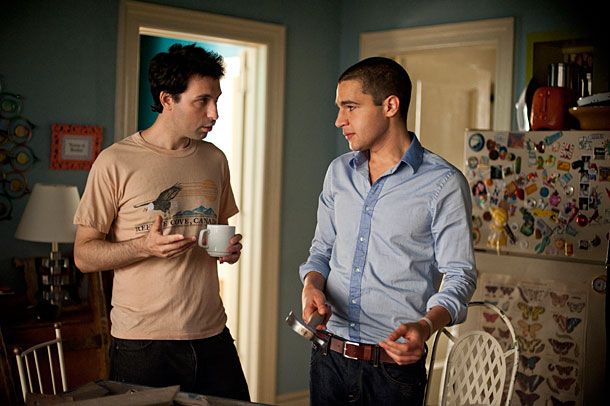 Ray (left), played by Alex Karpovsky.
"Ray works at a coffee shop, but we didn't want to make him that stereotypical coffee shop guy. We had Alex wear his own beat-up jeans, and the beat-up New Balance sneakers that he wore to set were so great that we bought a pair to beat up to look like his. And he wears a T-shirt from Atlantis Attic that was someone else's summer camp T-shirt from ten years ago."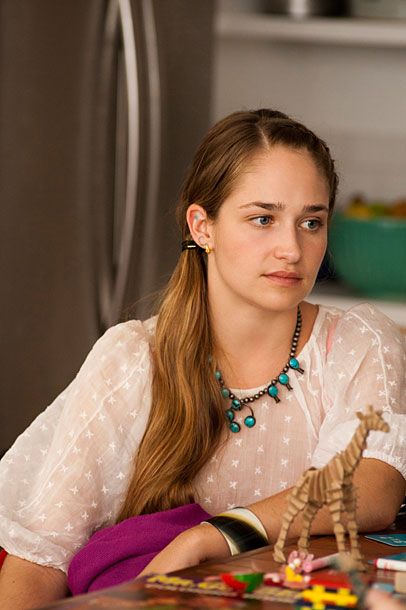 Jessa, played by Jemima Kirke.
"She's our bohemian girl. We did a combination of vintage and Jemima's own wardrobe. We also made some pieces ourselves, and Jemima's mom owns a vintage store called Geminola that's just incredible, so we shopped there too. I also went to the Brooklyn Flea for jewelry, and we got some pieces from Zara, which are fantastic because they're fashion-y in that unique way. Her character was the kind you just shop for during your travels when you happen upon the right thing."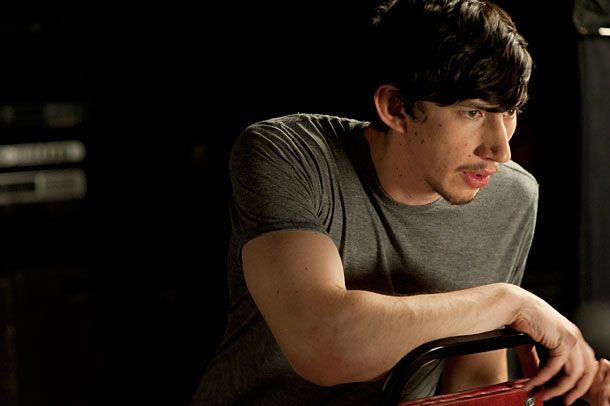 Adam, played by Adam Driver.
"Lena wanted him shirtless for most of the season, so that was great, but it made finding a pair of really good jeans important. And Adam was fantastic – he tolerated trying on an entire rack full of jeans, and that's what we did. We just wanted to find one pair that didn't look too fashion-y but was still flattering and didn't look non-fashion-y. We didn't want him to look bad, but we didn't want him to look like he spent a lot of time thinking about his jeans because he's not the kind of character that would."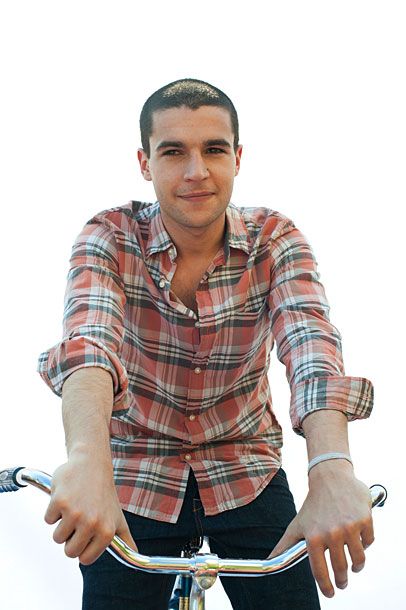 Charlie, played by Christopher Abbott.
"He's as cute as a button. He plays Marnie's love interest for the entire season. Charlie's character is just a nice guy, and we wanted to play that up by making him look pulled-together but also have some softness. We did sweaters and shirts that were really washed in, and plaid shirts where the plaid had sort of faded out, and beat-up jeans. We wanted his stuff to look a little bit lived-in without looking thrifted."