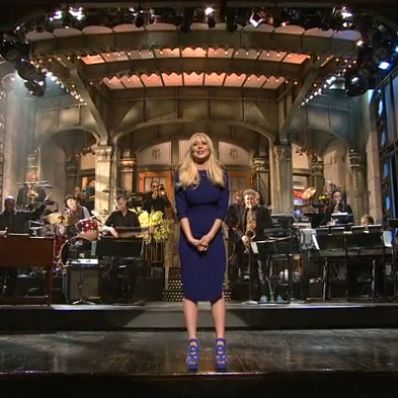 The most popular adjective for Lindsay Lohan's latest SNL performance seems to be "lukewarm," which can also be applied to her wardrobe choices for the show. But assuming that Lohan's main objective was to prove that she's not a gigantic mess these days, her outfits could even be called a success. The four dresses she wore when she wasn't in costume were simple, safe, and almost even ladylike. Sure, they were all tight, but they didn't show cleavage and most of them had sleeves. Since Lindsay needs to prove that she's marketable once again (hell, insurable would be a good place to start), wearing inoffensive, every-woman-esque outfits was a good move for her. Then again, she may not have had much choice in what to wear — how many designers are really willing to lend her clothes these days? Click through our slideshow for an analysis of her four looks.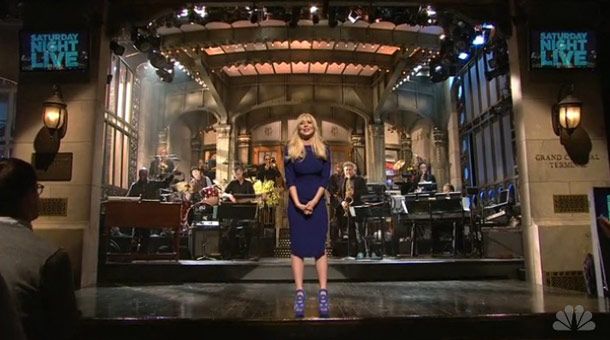 Opening monologue
Lindsay opened the show in a tight blue dress with a below-the-knee hemline and three-quarter sleeves. It was practically Kate Middleton-esque, at least in terms of skin-coverage, until she turned to her left to show a high slit up her left leg. Designer-wise it's pretty difficult to identify (it could be this Antonio Berardi dress, but it's hard to tell), which is probably a good thing – wearing anything too trendy or recognizable might remind people of her disastrous attempt at high fashion "design," which didn't do her acting career any favors. She also wore these Giuseppe Zanotti heels, which were the only noticeable accessory she wore all night.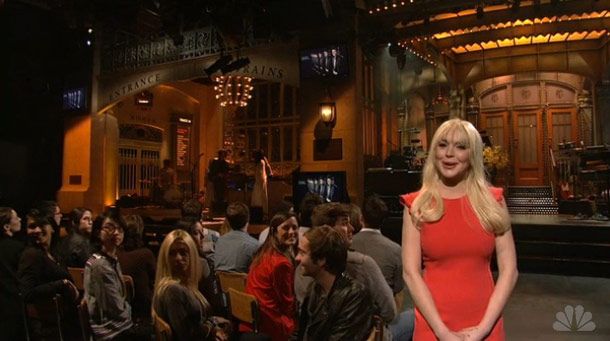 Introducing Jack White
This is probably the best dress she wore all evening, which is too bad because we only saw it on-air for about three seconds. Again, she stuck with a high neckline and clingy fit, but the sculptured shoulders added some flattering structure. This was also the least-tight dress she wore, unlike …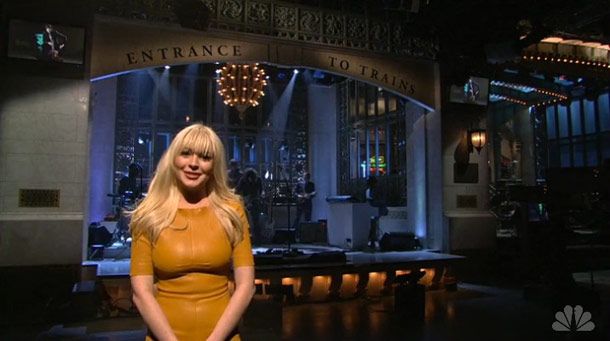 Introducing Jack White
… this dress, which was definitely the tightest and also the worst (note to EVERYBODY: studio lighting and shiny mustard-colored leather shouldn't mix, period). This dress only appeared on air for about three seconds, too, and hopefully Lindsay didn't have to wear it for long, since she looked like she was suffering from Spanx-induced suffocation.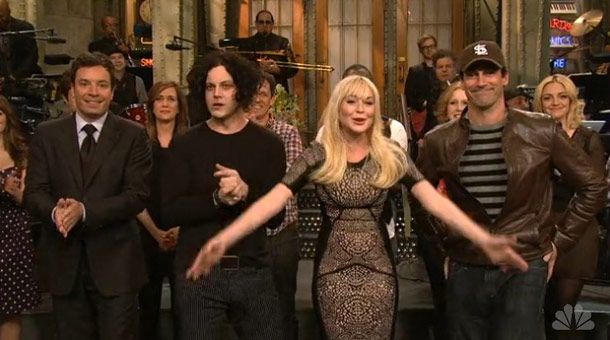 Closing Scene
It's an illusion dress (also known as a "thin dress") – how on-trend of her! And again, it probably would have looked nicer if she'd ordered up a size, but overall it's still flattering. This was probably the "riskiest" outfit she wore all evening, mainly because it more closely resembled something one would wear while dancing on a bar (or throwing French fries across the banquettes at the Boom Boom Room). Luckily for all of us, Lindsay did neither of those things that night.