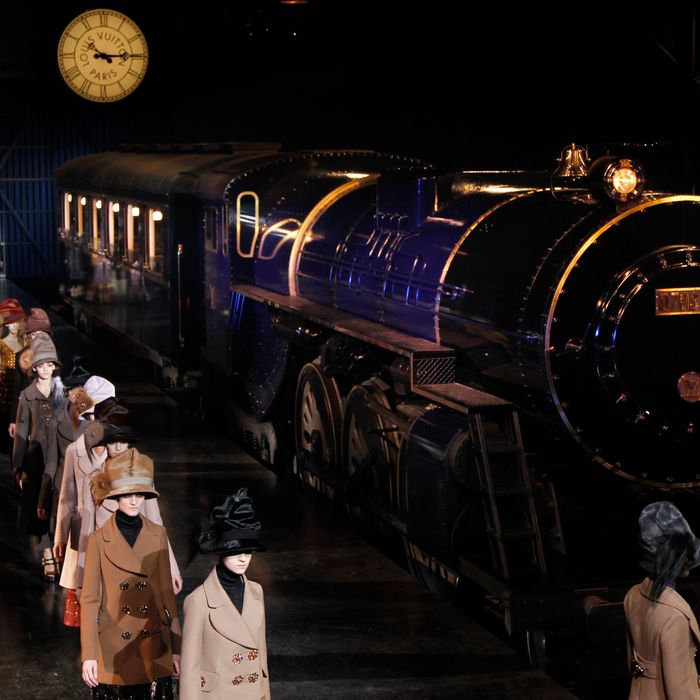 The Louis Vuitton train.
Photo: Francois Guillot/AFP/Getty Images
As you might expect, engineering a life-size train full of models to choo-choo its way through the Louvre took some doing. Louis Vuitton stylist Katie Grand explains just how much of a pain in the ass it really was: "At first, we had tried to get a real train in to the Louvre, but it was too heavy so it had to be built. They started work about a month ago," she tells Grazia. Apparently the train idea was born after she and Jacobs decided to emphasize luggage this season, and they took further inspiration from the movie Murder on the Orient Express. 
Needless to say, cramming all the models along with their enormous hats and feather-trimmed suitcases into the train was a logistical nightmare, and as a result the show started four whole minutes late, argh! Anna Wintour was probably out the door and halfway through her third tennis game by then. Says Grand:
It was the first time we haven't started the show two minutes early in quite a few seasons. Backstage, we were all completely frantic that we were running four minutes late, but I suppose that's how a lot of trains run!
The lesson? Next season will be train-free, and they might make the clothes simpler, too: "We all think we might do a pale chiffon collection for summer with no embellishment or print!" she says. (God, those slackers.)
Related: 
All Aboard the Louis Vuitton Train!
See the Complete Fall 2012 Louis Vuitton Collection