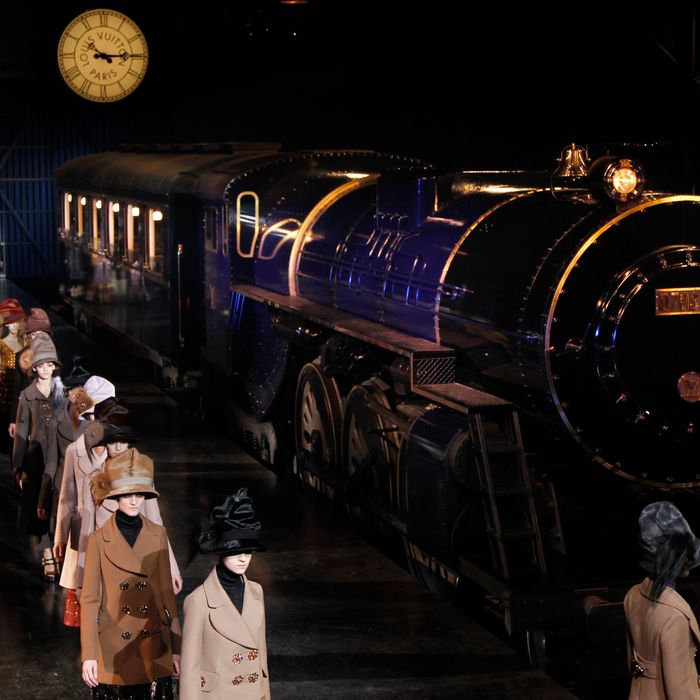 The Louis Vuitton train.
Photo: Francois Guillot/AFP/Getty Images
Marc Jacobs continued his affair with Dr. Seusslike headwear at Louis Vuitton this morning, which also featured a life-size train that chuff-chuffed its way onto the runway when the show commenced. (Suddenly, Chanel's tiny silver train doesn't look quite so impressive anymore.) Models then emerged from the locomotive in squashy-looking hats by Stephen Jones, each with her very own porter to carry several large pieces of luggage down the catwalk.
In keeping with the train-travel theme, the clothes were Victorian-inspired, especially the prim turtlenecks and calf-length coat-dresses. Many of the fabrics were heavily embroidered with colorful thread, giant crystals, and shiny discs that somewhat resembled rows of CDs (oh, that's what we're supposed to do with those things now!). Cropped pants peeked out from underneath matching below-the-knee skirts like petticoats, while jackets featured wide lapels and jeweled buttons that looked more like brooches than anything you could conceivably jam through a buttonhole. Jacobs also showed several garments made of patchwork kangaroo leather, of all things, sewn together checkerboard-style. And yes, Marc Jacobs took his bow in those bejeweled pilgrim shoes again.