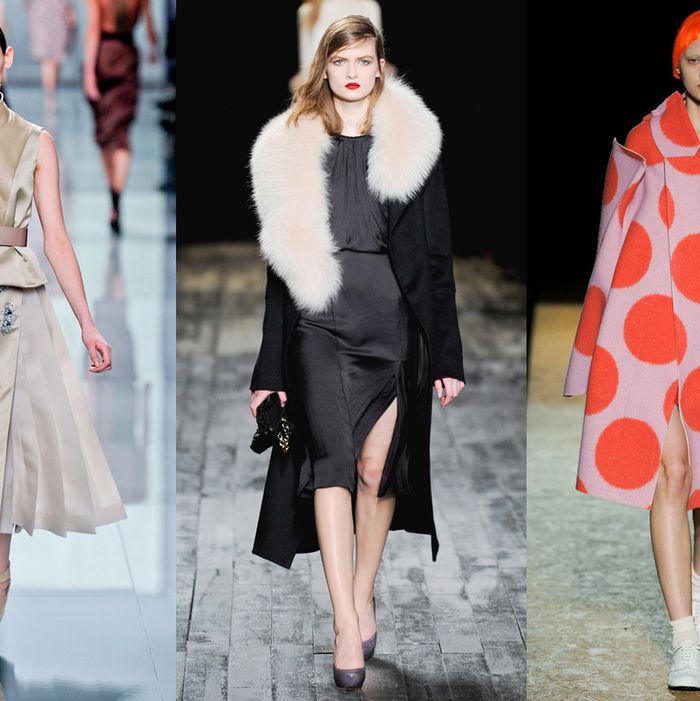 From left: looks from Dior, Nina Ricci, and Comme des Garçons.
"I'm gonna take that bitch to college! I'm gonna give that bitch some knowledge!" intones a rapper who calls himself Zebra Katz over the loudest of loudspeakers, jolting awake the somnambulant fashion audience at the Rick Owens show. This deeply offensive if catchy lyric — it goes on to inform the listener that the singer intends to "slice that bitch and ice that bitch"— seems to have little to do with the stunning ensembles on the Owens runway, which include gossamer-draped frocks in every shade of gray and some of the most desirable leather jackets — abbreviated in length, voluminous of sleeve — of the season.
Whoever is in charge of things at Dior should send some bitch over there to rescue the house. The schlumpy offerings have more than one person in the audience yearning for John Galliano's return, his own burst of hate speech notwithstanding. If Dior's intended customer is a monied lady in Dubai or Kiev or Shanghai, it would behoove the house to realize that people in those places are just like you and me, which means they don't want a mid-calf beigy-pink pleated chiffon skirt topped by a smattering of dowdy glitter. What they yearn for is a miniskirt or a pair of cigarette pants and, if they are feeling particularly frisky, maybe even cowgirl shirt, all of which are on tap at Isabel Marant, where the designer has replaced last winter's Native American fringe with snap buttons, slanted piped pockets, and Girl of the Golden West floral embroideries.
Was Margo Channing thinking of Nina Ricci when she claimed that she planned to get married in a fur coat over a nightgown? The louche outerwear here sports lopsided fur collars (like the garment itself just got out of bed after a rough night) thrown over a whispery negligee gown, lending an irresistible air of Gallic dishabille, even though the designer, like so many other big names showing in Paris this week, is actually British. Dries van Noten realizes that a rakishly tossed green army coat cannot fail to elevate a languid abstract-print shift; Jean Paul Gaultier tries this same trick with a variety of leathers at a show which runs to skin-tight metallics and other nasty-girl flourishes. (The soundtrack here, the Velvet Underground's "I'm Waiting for the Man," which has Lou Reed singing the line "$26 in my hand" — to buy heroin, but that's another story — is a bit incongruous when you realize that even $2,600 wouldn't buy one of these ensembles.)
The response to Junya Watanabe — who solves the problem of his excruciatingly tailored shoulder line by stitching down the sleeves and turning his coats into trench-capes this season — is, as ever, enthusiastic, but not nearly as hysterical as the waves of applause that ensue at the end of the Comme des Garçons show. (As usual, no amount of stomping and clapping will induce the poker-faced designer to take a bow, or even peek out from backstage.) The models at Comme, emerging in dead silence in giant paper-doll-esque felt coats and frocks rendered in bright colors and huge kindergarten prints, seem to inhabit their own universe, a place where shape and size have a completely different meaning, but where the beauty of the vision is indisputable.
But enough heavy philosophizing! Let's wheel tiered cakes on the runway, and zip Joey Arias into a Lanvin dress and have him grab the mike and impersonate Billie Holiday! It's Alber Elbaz's tenth anniversary at the house, and the fête that follows the runway show — a splendid affair featuring silk gazar dresses with exaggerated ruffles, visible zippers, and other Lanvin tropes — is a rare moment of pure exuberance in a wildly eclectic season that has more than one person in the audience (but not me! Never me!) wondering why he or she has spent the last four weeks staring at expensive clothes in as many cities, while outside these rarefied tents, the rest of the world crackles and burns.