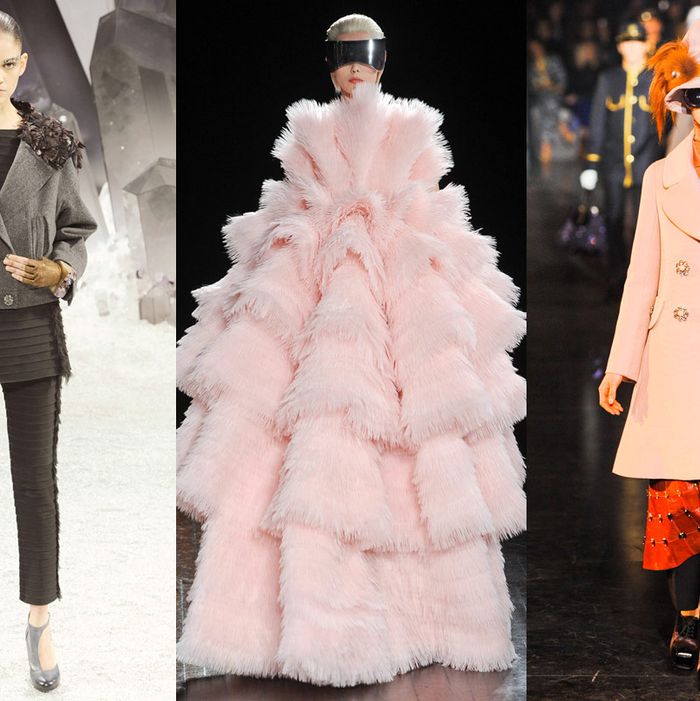 From left: looks from Chanel, Alexander McQueen, and Louis Vuitton.
Photo: Imaxtree
Hey gang!
Have you been paying attention? The Paris collections are over, time to pack up your increasingly grubby duds and depart the City of Light for ugly-but-exciting New York City. Before we leave, please join us in this simple but educational quiz on the highs and lows, the best and worst, of Paris Fashion Week. Ready?
Q. Who is Maxime Simoens?
A. You won't believe this, but while you were sleeping, some guy called Simoens (NOT Simons, as in Raf) is suddenly being touted as the new designer for Dior. Simoens is currently at Leonard, which if you are really, really old you may remember as a printed silk dress house popular with monied ladies of a certain age (sort of the pre-Dundas Pucci of France.) How annoying is it that after attending what feels like thousands of fashion shows, including one in a crematorium in Pere Lachaise, you never even considered checking out this Simoens person, and now he is the heir apparent (then again, haven't we been down this road before?). 
Q. What whispery substance is transformed into something dirty and dark at Chanel?
A. Feathers, which do little to rescue the joyless Goth-lite suggestions on the meandering catwalk, which is decorated relatively simply (at least by the standards of the house) with lavender stalactites instead of the extravaganzas of past years — last season Florence Welsh popped out of a clam shell; previous collections have offered icebergs floating down the runway and Lily Allen leading a hoedown. But who can blame Karl for having an off-day? If you were up to your grosgrain-tied pigtail in collabs with Hogan and Macy's and Net-a-Porter, maybe your main collection would look a little dull around the edges too.
Q. What will Daphne Guinness wear when Prince William divorces Kate in a spectacular May-December romance that stuns Britain?
A. McQueen again, but instead of the white column Middleton favored, DG will walk down the aisle in Sarah Burton's tiered gargantuan pink puffed-palooza, which appears to be made of swan's down, or maybe angel's hair — a frock, given the bride's sartorial proclivities, which can also be repurposed for dropping off the laundry.
Q. What new designer, whose talents are disproportionate to his musical abilities, attempts to distract the audience by having hot rods zoom around at the end of his show?
A. Kanye West, who is a wonderful performer, but just because he has won multiple Grammys doesn't mean you should listen to him when he suggests you spend next winter with a tail-whip, or sporting a skirt with a fur peplum, or trapping your neck in a crocodile collar.
Q. Who eclipses the pastel carousel he put on the runway last season — the models jumped off in candy-colored outfits making everyone think the show was a sort of audition for Dior (as it turned out, a crimson herring), and this year installs a moving locomotive, from which his models alight in glittery Downton Abbey-worthy tailleurs, if those ladies had walking suits made of techno fabrics?
A. Marc Jacobs at Louis Vuitton, of course, celebrating a decade and a half of collaboration in a spectacular show that ends Fashion Week with just the right combination of fantasy and excess, a dreamlike vision giving at least one jaded person in the audience literal chills and reminding you of why you love fashion in the first place.