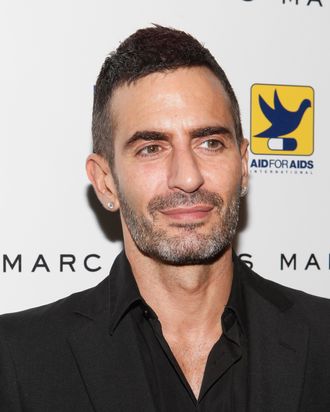 Marc Jacobs.
Photo: Amy Sussman/Getty Images
Marc Jacobs is profiled in the latest issue of Time, and he once again defends his use of underage models: "You have child actors and children who model for catalogs," he says. "What's the difference between doing a commercial for peanut butter and being on a runway?"And he's not just saying that to be instigative, either — or so he claims:
"I was just kind of doing what I felt," he says, adding without a hint of irony, "I don't ever mean to be provocative."
Believe what you want about that, but Jacobs is a busy guy and doesn't really have time for bullshit. He also doesn't have much time to fret about what people think of him or his work.
"There are very few people whose opinion about fashion matters to me … Grace Coddington is a great editor and a great friend, and whether or not she likes something I do, I believe she'll give me an honest opinion … I have very few close friends."
So how does Jacobs manage to be so adamantly Zen about things? Apparently, he sometimes tells his assistant not to give him a weeklong schedule, preferring instead to just know his appointments for the very next day. "Fear comes from worrying about the future. So I avoid it," he explains. Which must work swimmingly when you have an extensive staff of people to worry about your future for you.