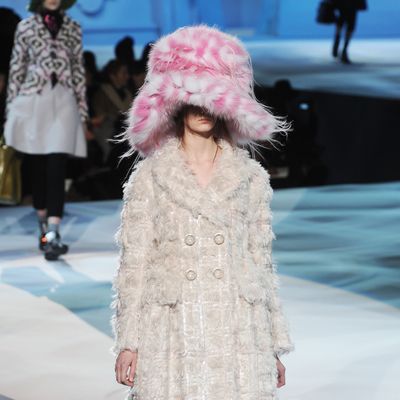 That's Hailey under that big pink fluffy hat.
Photo: Alessandro Lucioni
Marc Jacobs cast two underage models in his fall 2012 show, a decision that was widely criticized for flouting the CFDA's recommendation that models under 16 not be hired for shows (Jacobs recently became a CFDA board member, which made things look even worse). At the time, Jacobs defended his choice by stating, "There are children actors and children models for catalogs and stuff, so I guess if a parent thinks it's O.K. and a kid wants to do it, it's fine."
While the child performers Jacobs mentions are exempt from mainstream labor laws, rules and guidelines do lay out acceptable working practices. Many such rules limit the hours children and teens can work, either during a day or just at one time; during Fashion Week specifically, the CFDA's guidelines suggest models under the age of 18 are not kept working past midnight.
In her first season at New York Fashion Week, 17-year-old Hailey Hasbrook told WWD she worked long past midnight as a "looks model" (better known as a fit model) for Jacobs on two consecutive occasions — with 2 a.m. and 4:30 a.m. ending times, respectively. Jezebel found more details of the grueling  schedule on her Tumblr. On her first night with Jacobs and his team, Hasbrook worked a 6 p.m. to 2 a.m. shift, two hours past the CFDA's "curfew." After an 11 a.m. casting the following morning, Jacobs called her in again. Writes Hasbrook:
Sunday was a VERY hectic and LOOOOONGG day…..

It started with a casting for Rodarte at 11:00 in the morning.

Then, I had MORE looks for Marc Jacobs. The SCHEDULED time was Noon-4:30. They ended up keeping me until 6:00, though, causing me to have to switch around my schedule and cancel some things…

I get a call from my agency saying Marc wants me BACK to do more looks. They told him that I would do it but I had to have an early night because I had shows early the next morning. They told me that I shouldn't be there any later than 10:30.

Well, 10:30 rolls around and I ask Shawn if he knows when I will be ready to leave. Only to find out that they have me booked open-ended. Meaning that they had no specific end time for me. After a couple phone calls, they decided on 2:00 am.

Well, 2:00 rolls around … I hadn't been trying things on for a while so we all thought I would be good to go. I go and start to get dressed only to be called for in the other room by Marc.

I didn't end up leaving until around 4:30 in morning.
That's 4:30 a.m. Monday morning — the fall Marc Jacobs show walked promptly at 8 p.m. that same evening. Hasbrook also booked Marc by Marc Jacobs. Despite the long and likely tedious hours, Hasbrook says the experience "was actually a lot of fun," the design team was "super awesome and nice," and meeting Marc Jacobs himself "was cool." But despite the job's entertainment value, she didn't get paid for her work on either show: Instead, she received clothing in trade.
While this is common for runway models, it's unusual for a fit model to work basically for free. Jezebel's Jenna Sauers labels the unpaid labor "bullshit," and rails particularly against Jacobs and LVMH for their decision to expect girls to work for free in light of their multibillion dollar net profits. (She also notes that in Paris, where Jacobs shows his designs for Louis Vuitton, models are paid — French labor laws mandate it.)
A presumably testy Marc Jacobs (or someone in charge of his Twitter feed) has already tweeted a response to the story: "Models are paid in trade. If they don't want to work w/ us, they don't have to." It's a flippant argument, and one that holds little weight. Be they social, professional, or financial, the pressures most models (particularly those new to the industry) are under certainly make the question of whether to work with Marc Jacobs a rhetorical one.