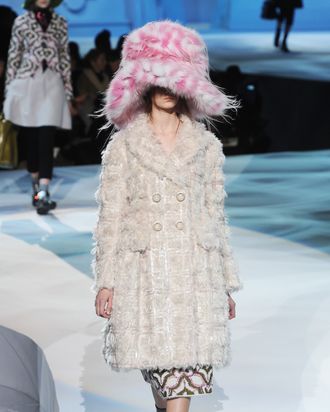 Hasbrook for Marc Jacobs fall 2012.
Photo: Alessandro Lucioni
News broke yesterday that Marc Jacobs again disregarded the CFDA's age guidelines and asked a 17-year-old fit model to work without pay during the late nights leading up to his show last month. Marc Jacobs quickly tweeted a rather blasé response, that "If [models] don't want to work w/ us, they don't have to," and his "looks model" Hailey Hasbrook also responded to the story on Tumblr. She said it's all been overdramatized and misconstrued: "I loved working and doing looks for Marc Jacobs. It was actually one of the favorite jobs I have had so far. Everyone there were absolutely amazing and awesome to work with."
In her post, Hasbrook gave more details about her long shifts:
"It wasn't like I was non-stop trying clothes on for a full 9 hours … I had many breaks where I could go and lay on the couch, read, or just relax. They took really good care of me there. All I had to do was ask if I needed anything. There was plenty of food and drinks there the entire time. They were all very understanding, flexible, and accommodating.

I enjoyed my time there, and I would do it again in a heartbeat. I am not and was not complaining one bit about it at all. I hope that everybody can see and understand that I meant no harm by those posts and that this will help clear everybody's mind of any false beliefs that were put there by Jezebel or any other posts that may have mentioned me in them."
It's a shame that Hasbrook believes the controversy reflects poorly upon her — it doesn't. Nor does it necessarily reflect badly upon Jacobs himself, who may or may not have known Hasbrook's age (or her full schedule). But Hasbrook's bookers would have known she's only 17 years old, as would — most likely — some of the casting team at Jacobs's studio, and they arranged the job regardless.
Hasbrook also says that she "actually preferred to be paid in trade. I love everything that I got, and it was well worth it." If she's in a position in which she doesn't need the cash, that's great (or hey, maybe she's selling the Jacobs merch on eBay). But many of her fellow models need more checks and fewer couture samples in return for their work, and with (it seems) even more modeling jobs being booked for trade instead, that's a problem.
Update: A "well-placed source" tells Jezebel Jacobs paid his spring 2012 fit model $100 p/h for her services. According to the hours Hasbrook says she worked with the Marc Jacobs team on looks, this means she'd have picked up over $2,200 had the rate of pay remained consistent.