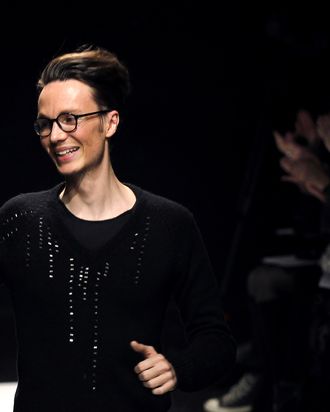 Maxime Simoens is not waving goodbye to Leonard or waving hello to Christian Dior. He's just waving.
Photo: FRANCOIS GUILLOT/Getty Images
Citing insider-y industry sources, WWD ran a rumor this morning that Maxime Simoens had entered negotiations with Dior and would be leaving his position as designer at Leonard less than six months after taking the job. Having received the standard "no comment" in response to initial inquiries, they asked both Simoens and Leonard's managing director Nathalie Tribouillard-Chassaing directly at the label's fall show this afternoon.
A "flustered" Tribouillard-Chassaing said she "[didn't] know what these rumors are about… We are doing the show, and we'll see what happens afterwards." Simoens had little more to say himself: "There is nothing to comment because we are in negotiations. For the moment, nothing is happening. So when something happens, we'll talk about it." So it's not clear whether these talks involve Dior, Leonard executives, or the team at any other fashion house for that matter. But sure, why not, let's get the rumor train chugging merrily again.