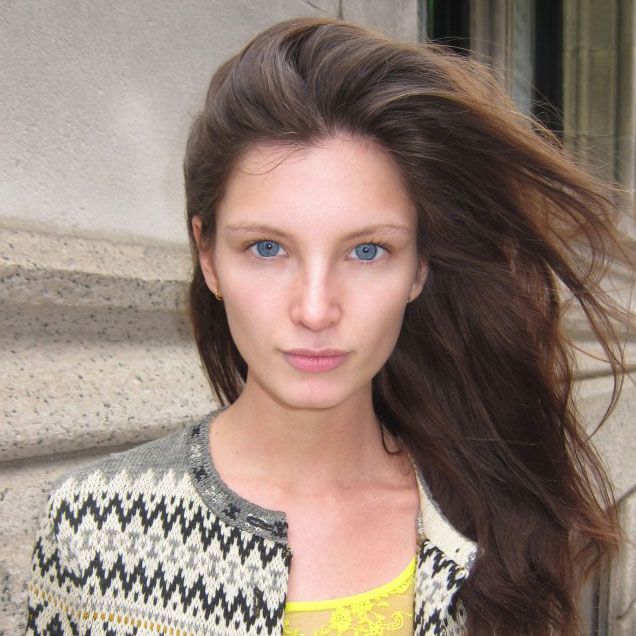 It may have taken seven years for Ava Smith's penetrating beauty to really catch on with the fashion set, but the 23-year-old sure as hell made an impact this past season. At the age of 16, the Chicago-native first booked photo shoots with Paolo Roversi for British Vogue and David Sims's Benetton print ads, but her career strangely failed to take off. So she jumped into more lucrative, commercial waters (while taking literature and poetry classes), until Wilhelmina Models decided it was time for Smith to tackle the catwalks — and she didn't disappoint. The 5'10" model with a 24-inch waist scored slots on the fall 2012 Calvin Klein, Gucci, Dolce & Gabbana, Givenchy, YSL, and Chanel runways. After a Patrick Demarchelier editorial shoot, the refreshingly frank Smith stopped by our offices to chat about how she kept her cool throughout Fashion Week, what's on her reading list, and her thoughts on the world's obsession with dieting.
You walked in over 50 shows this fall 2012 season; what city did you find to be the most chaotic?
Probably Paris because that was when everything kind of reached its height of exhaustion. People couldn't string a sentence together, even though we'd seen each other for the past three weeks. Also, Paris tends to be a scramble in the sense that we have the least amount of time for fittings and castings, as most of us are coming directly from Milan.
Did you make any friends backstage? I'm sure you had enough time to kill.
Well, I read a lot. There are definitely strong personalities across the board, but there are very sweet ones, too. I'm kind of weird; I'm not very social. I'm not someone who goes out and seeks out friends. It's just not my personality. Also, I was hiding from the backstage photographers. I know it's their job, and they're all friendly, but sometimes, you just want to sit down and relax. Often, I would try and find an isolated corner just to have ten minutes to decompress. Usually, when you're with a group, they swarm around you.
You're 23 right now, which is in between the really young girls who start out and the older, more established girls.
I felt like there was a big gap between the ones who are just starting out in their teens and the older, experienced ones. I'm not a young girl starting out; I'm older, but I am still considered a new girl. And when you're in your twenties, you've already established your friends within the industry, so I couldn't really work my way in there either, so I was just doing my own thing. For me, Fashion Week is not about social stuff, it's my career, and I take it seriously.
To what do you attribute to your success on the fall 2012 runways?
It helps having a great team behind you. And then, I just think I was finally ready. When I worked with Paolo Roversi and David Sims earlier in my career, I wasn't old enough to know that this was what I truly wanted. I think you need to have passion. When you're young, it's easy to be pushed into thinking this is what you want … I feel much more comfortable pursuing this now.
You have to be one of the more grounded models I've met in my three-plus years of doing this. I feel most models I meet put out this skewed idea of who they think they are, or, perhaps, how they want to be portrayed. It's pretty transparent.
Well, I mean, think about it: When you're on a set and you're a model, you are pretty much the center of attention. Whether you like it or not, everyone — the hairstylist is paying attention to you, the makeup is paying attention to you, the stylist, the photographer — you become the center of this small earth. I think it's easy for it to go to your head. So now when you walk down the street, you think you're beautiful, and you might think everybody's looking at you, so you think, "Oh, I must be really important and really special!" But you're not.
If anything, it's more of a projection they put onto others. Does anything frustrate you about the industry?
I feel like everyone, including people outside of the fashion industry, tends to put out a persona of how they want people to see them. Usually, when I talk to someone, I try to have a more real conversation with them. I don't have much patience to sit there and sort of, like, hear the persona. I want to get to know you. I don't care if you're insecure, if you have some fears; I want to hear those. I want to talk to you about them, if that's who you are. I don't want to pretend like your life is perfect because I'm not about to tell you mine is, you know?
Fair enough. Now, tell me a bit about your childhood.
I was born and raised in Chicago … born on the north side, grew up on the south side, so I'm a true Midwestern city girl.  Moving to New York wasn't that much of change for me; maybe Chicago is a little bit cleaner. I was a brat growing up. If I would've met myself as a kid today, I would be so annoyed with myself. I don't know how my parents or anyone put up with me. There are so many embarrassing home videos of me reenacting the Cats musical because I knew every single word from it. I have three sisters; I'm the second oldest of the bunch, and we're all very different. 
How did you get discovered?
I was 14 or 15 when I was first approached, so I was quite young. My family has a little summer cottage on Lake Michigan, and some woman came up to me while we were there and said, "You're tall, skinny, and pretty. You should model." It wasn't really the first time I heard it, but it always seemed kind of sketchy, so we never really went for it. She was pretty persistent, saying she knew someone in Elite Chicago [now called Factor Women] so she introduced me to them, and it went from there.
What was your experience like being 15 and starting a career in modeling?
Well, my agency has always been sensitive about my age, saying "Listen, we know you're young, so we want you to stay in school and do everything you want to do. If you say no to every job from here on out, we'll still call you." So, for me, my experience was very, very good. I'm kind of blessed that I started in Chicago where things are not quite the crazy fashion world like in New York or Paris.
Let's move on: What's your current obsession?
Yogi's Calming tea! I always carried it around with me at shows — people probably thought I had drugs. With all the chaos and anxiety that everybody feels while backstage, I would just sit back, have tea with some lemon in it, and I would just sort of let it wash over me. I would go from high-stress madness to okay, no problem, go ahead, touch my face, pull me, push me, honestly, I'm cool. [Laughs.] Maybe it's placebo, but I like it.
Are there any designers you didn't walk for that you'd like to for spring 2013?
Prada. I know Miuccia Prada is a tough woman, but I would love to meet her. I want to see the strong woman behind such an empire. I can imagine one would have to be kind of hard to handle her business as well as she does. But, I have to say, my highlight was walking for Calvin Klein. I've always said Calvin Klein is the embodiment of classic American style. Also, I think we all had those Calvin Klein Jeans tees growing up.
What's your diet like?
I've realized that you have to listen to your body and when you feel good. If you want to eat meat, eat meat. If you have a craving for sweets, eat sweets. I feel people forgot how to listen to what their bodies are telling them. It seems the world is on its own diet. No carbs, no meat, no this, no that. And I'm like, Why don't you just eat a normal, balanced meal? Why do you have to call yourself vegan? Why do you have to be on the point system?
What about your fitness routine? Do you work out?
I'm a product of two athletes. My parents met on a tennis court; they've been playing tennis since before I was born, so I grew up playing tennis, basketball, everything. I'm definitely a fit, active person. I walk everywhere, and I used to ride my bike everywhere until it got stolen.
Welcome to New York! Read anything good lately?
Currently, I'm reading Wild Swans: Three Daughters of China by Jung Chang. It's about three generations of women who grew up in China in the 1900s. Before this, I was reading Cat's Cradle by Kurt Vonnegut; Slaughterhouse 5 is next on my list.
Do you consider yourself beautiful?
I would be lying if I said I thought I was ugly. There's definitely things I would change about myself to be totally honest, but I also, I think for me, getting older has been accepting the fact that this is who I am, this is how I look. I know I'm not perfect, and anyway, anything too perfect is not perfect.
Finally, what advice would you give aspiring models who might be waiting for their big break?
I don't mean this to sound too negative, but remember it's just a moment. I think it's very easy to get caught up in … thinking you've made a name for yourself where people are aware of you and what you're doing. Whether it's fame or notoriety or whatever you want to call it, just remember that eventually there's going to be someone else who's going to be just as beautiful as you, or just as smart, or as funny, whatever it is. So, enjoy it while you have it, but don't let it define you, because it's a wonderful moment when it's there, but there will be many other moments in your life following this one.
Model Profile: Ava Smith

Explore other rising stars (plus all the big names) in our extensive Model Manual, featuring runway pics, glamorous editorials, model bios, career timelines, and more.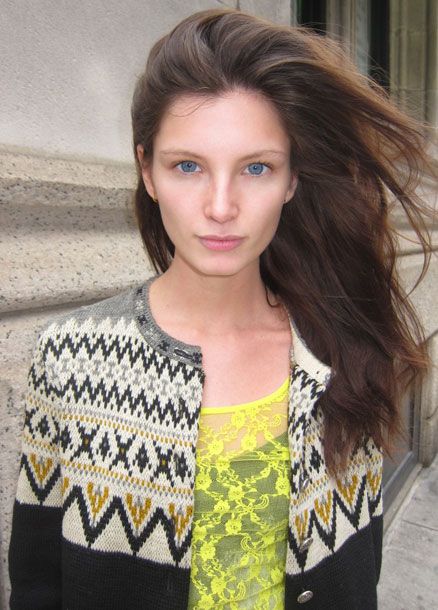 Head shot, 2012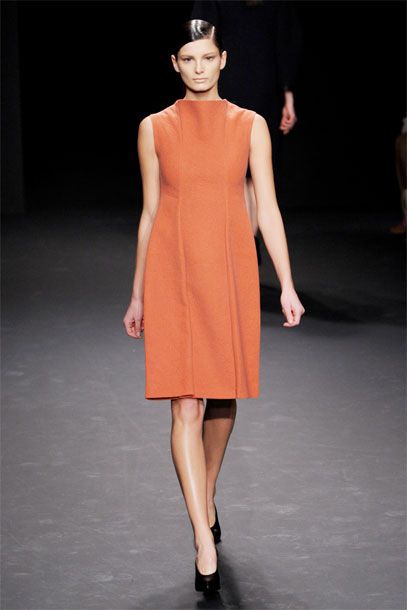 Walking the fall 2012 Calvin Klein show in New York.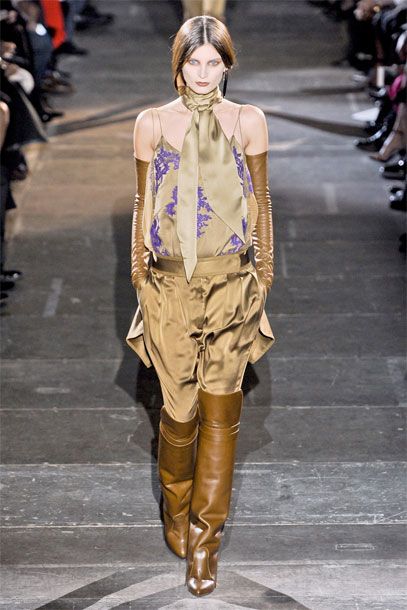 Walking the fall 2012 Givenchy show in Paris.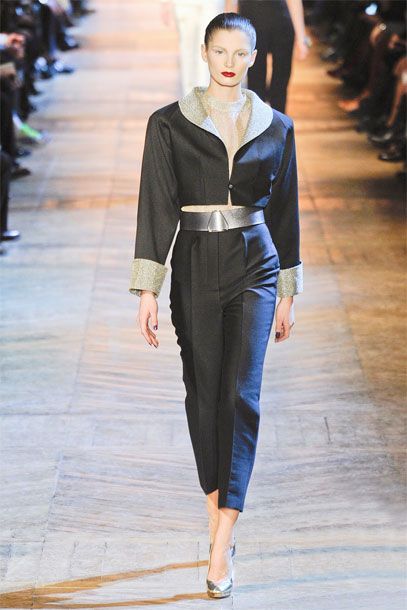 Walking the fall 2012 Yves Saint Laurent show in Paris.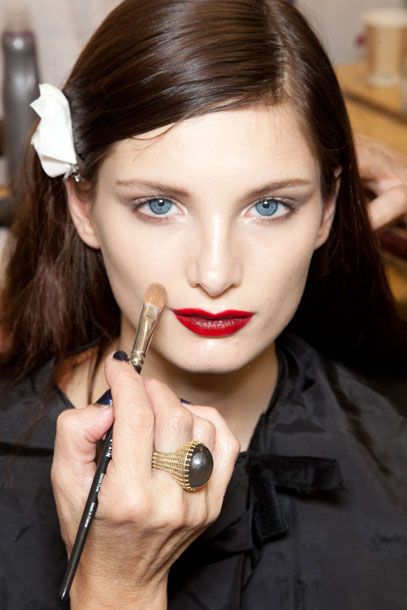 Backstage beauty portrait at Nina Ricci.