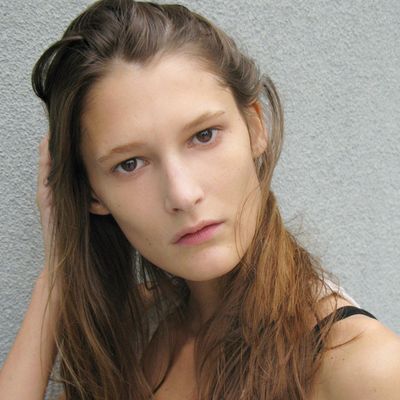 Full disclosure: Twenty-six-year-old newcomer Marie Piovesan might be our favorite new face this fall 2012 season. The Parisian has a severe, arresting beauty and charming intellect that makes us one of her biggest fans — and we're not the only ones who are smitten. In the span of her six-month career, Piovesan has already booked face time with Paolo Roversi, Karl Templer, Craig McDean, and Marie-Amélie Sauvé. As one the current faces of Céline (she shares the campaign with Stella Tennant), she recently came off a stellar fall 2012 showing, during which she opened for Rick Owens, closed for Louis Vuitton, and appeared on the runways for YSL, Balenciaga, Lanvin, and Versace. We recently sat down with rising star to chat about riding Marc Jacobs's train, collapsing after fashion week, and her love for Jesus and Mary Chain and Hole.
You recently closed Louis Vuitton's fall 2012 show, which was presented with a train inside the Louvre. How many rehearsals did you go through for the show?
Well, they first showed us the catwalk, and then they gave us our lineup numbers, explaining to us the logistics of it all — the man who was supposed to carry our luggage, how much time we had to wait after the girl who just went on to the catwalk to go, and etc. We actually only did one rehearsal. Marc [Jacobs] just asked me to be really careful with the coat and not to drop it! I loved the hat I wore. In the winter, I'd wear it every day.
You also had a strong debut NYFW — any differences working in the New York market versus the Paris market?
The only thing I noticed was that the lineup was totally different [from New York's] because I wasn't seeing the same girls backstage in Paris.
Overall, you walked in 50 shows in all four cities. What was the first thing you did after you walked Vuitton on the last day of Paris Fashion Week?
Well, I first passed out on my couch with my boyfriend and then dinner with my family to celebrate my birthday because I was on the plane to New York when I turned 26. Now, I'm settling everything I left on the side during Fashion Week, like paying bills and other charming stuff of that kind.
You recently shot with Paolo Roversi for Italian Vogue's special couture cover and spread. Tell us what it was like working with him. I hear he's quite funny.
Yes, I found him to be a really charming person — calm, humble, and also funny. The shoot lasted for a day, and it was shot in his studio in Paris. He already knew what he wanted to do for the shoot with all the retro projections on me and the background. The results were stunning, and I really enjoyed working with him. I loved Panos [Yiapanis]'s idea of wearing those black glasses for the shoot, too.
The resulting images show the silhouette of the couture pieces quite well. Is it different having to modeling couture clothes versus ready-to-wear?
Personally, when you model for couture, I think you need to look more chic and classic in your attitude than in ready-to-wear, where you could maybe play more with the attitude of your body and face. I like modeling for both because they are different exercises for me, but honestly, every shoot is something new, and I like the constant change.
Now, tell me a bit about your childhood.
Well, I was born in the suburbs of Paris. My parents were really young when they had me; my mother was 19 and my father 21. My mother is a painting and photography teacher, while my father works in real estate. I'm the elder of the family, having a younger 20-year-old sister and 15-year-old brother. I was a really, really shy kid. It's quite funny because I just found an old video of my sister and I, and I'm sitting in the corner of the room with a book, while my sister is singing in front of the camera — that's pretty much me today. You can change, but you still keep something from your childhood.
How did you get discovered?
Since I was 16 years old, people have asked me several times to model, but I never did anything with it, except when people were offering to pay me for it. Like, for example, I shot the Polish cover for Paulo Coelho's Veronika Decides to Die. But I never wanted to do anything with it because I was studying fine art for two years, and after, did three and a half years of archeology. To me, I felt modeling is something you had to do full-time, just like education, and I didn't want to split my time in half doing both.
Well, you're starting your career at 26, and you're doing better than most of the 16-year-olds who take a stab at it. What are your thoughts on underage models?
It's hard to say. I don't think one should judge, really. If they're doing it, it's okay for them, I guess. But, I'm happy I didn't start at that age. I'm glad I was able to do other things before starting to model; you can keep distance with that, you know?
Not really. What do you mean?
When you're 15, you don't really know who you are. You're still trying to figure it all out. To do modeling, I think you have to build up in your head before you go into it. When you're older, you're able to be a bit emotionally distant from the business, which if you start at a young age, you can take little things to heart.
That's why it's refreshing to see faces like you, Kati Nescher, Aymeline Valade, and Saskia de Brauw do so well in your careers. Anyway, I hear you're quite the music buff. What do you enjoy listening to?
Nick Cave, Hole, Siouxie and the Banshees, and the Jesus and Mary Chain. I also love Slowdive.
And what about books?
I love Nikolai Gogol, and I'm a huge fan of Edgar Allen Poe. For me, he's major — his writing is so rich. There's references to everything all the time. There's also this kind of romanticism, but it's not naïve. I've recently discovered an English author, Will Self, whom I really enjoy. I usually read only classic[s], but he's really good.
Model Profile: Marie Piovesan
Explore other rising stars (plus all the big names) in our extensive Model Manual, featuring runway pics, glamorous editorials, model bios, career timelines, and more.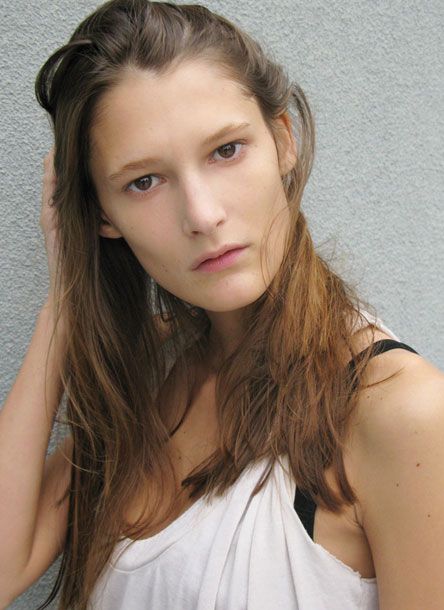 Head shot.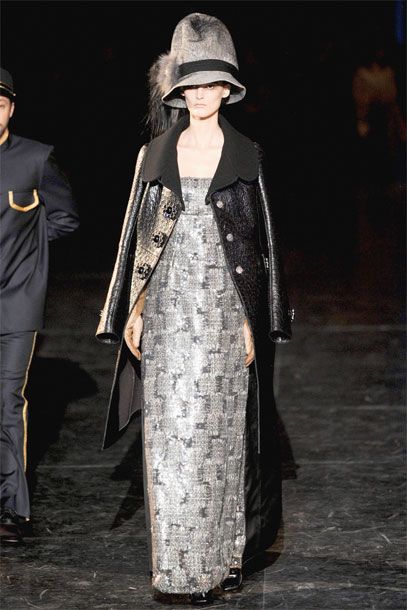 Closing the fall Louis Vuitton show in Paris.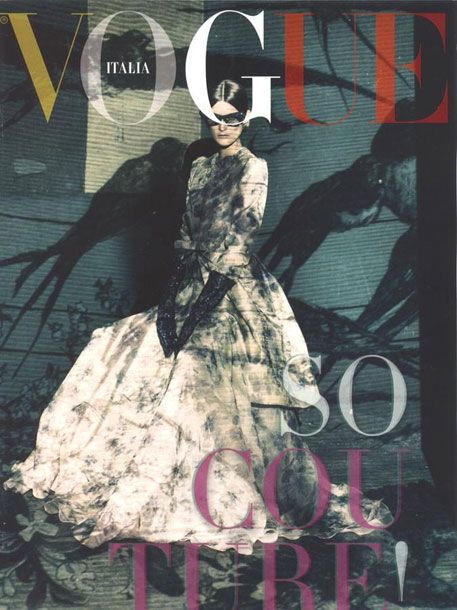 On the cover of Italian Vogue's couture supplement, March 2012. Photographed by Paolo Roversi.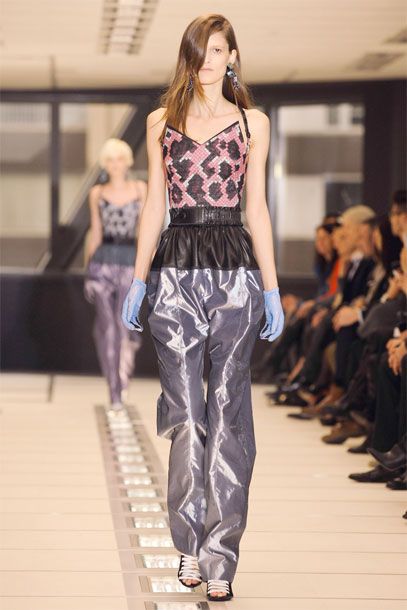 Walking the fall Balenciaga show in Paris.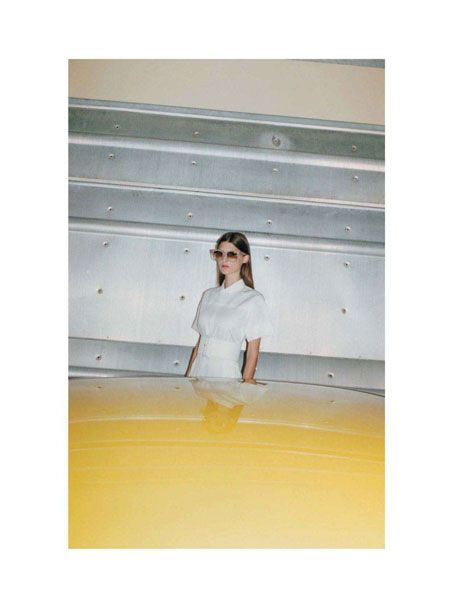 The face of Céline, spring 2012. Photographed by Juergen Teller.