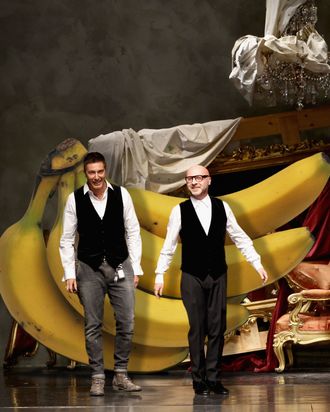 Why can't they just coexist?
Photo: Vittorio Zunino Celotto/2012 Getty Images
As reported earlier this week, Dolce & Gabbana filed a trademark infringement lawsuit against a gift shop called "Dolce & Banana" in Cape Town, South Africa, that sells jewelry made out of driftwood and shells. The store's owner, Mijou Beller, changed its name to "Banana" in hopes of avoiding damages, but the fashion label is still demanding that she reimburse about half of their legal fees (100,000 rand, about $13,195). Beller says that such payments would destroy her financially and issued a sad-sounding plea via Twitter.
Dear Stefano, please let us be. And visit us in Cape Town. I have always admired your famous sense of humor so present in your brand and in your designs. And although I appreciate that Dolce & Gabbana is a very successful commercial enterprise, I fail to understand why Dolce and Banana is a threat.
In their defense, Dolce & Gabbana reps say they sent several warning letters over the past six years before they filed the suit. But still, couldn't they could just accept some nice, free driftwood necklaces and call it a day?
Related: Dolce & Gabbana Sues a Gift Shop Named 'Dolce & Banana'