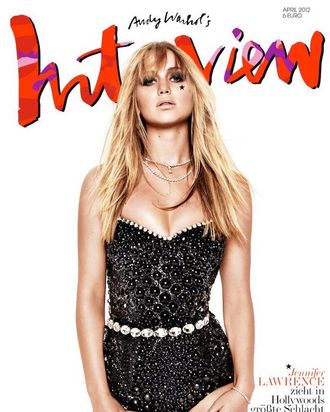 Lawrence covering the new issue of Interview Germany.
Slate notes "a baffling, infuriating trend" in movie critics' reviews of The Hunger Games: an argument that Jennifer Lawrence, as the film's heroine Katniss Everdeen, is just insufficiently malnourished. Lawrence told British Glamour she'd deliberately avoided dieting, because "Kate Moss running at you with a bow and arrow isn't scary," but some reviewers felt an element of emaciation was missing — you know, a dull complexion there, a visible rib cage here, the little things. 
Writing for The Hollywood Reporter, Todd McCarthy sees Lawrence's "lingering baby fat" as problematic; in her review for the New York Times, Manohla Dargis argues that, "a few years ago Ms. Lawrence might have looked hungry enough to play Katniss, but now, at 21, her seductive, womanly figure makes a bad fit for a dystopian fantasy about a people starved into submission." (Why let the fact that the movie shows Katniss hunting like a pro — and providing food both in game and trade for her family — get in the way of some body-snark?)
Other reviewers phrased their concerns more tactfully, and without the notion that a not-quite-emaciated frame inherently renders Lawrence an unrealistic fatty. Salon's Andrew O'Hehir notes her "well-fed and runway-ready [body]" throughout the Games, and Variety's Justin Chang says evidence of the movie's titular hunger "barely even seems to register." However, neither Josh Hutcherson (Peeta) or Liam Hemsworth (Gale), with their requisite buff young actor frames, come under much scrutiny in comparison.
Stanley Tucci, another of Lawrence's co-stars in the movie, says the figure-focused critiques are ridiculous: "That's all you can say… I think [Jennifer Lawrence] is great, no matter how big her bones are. And they're not big! She's gorgeous."
What else is there to say?