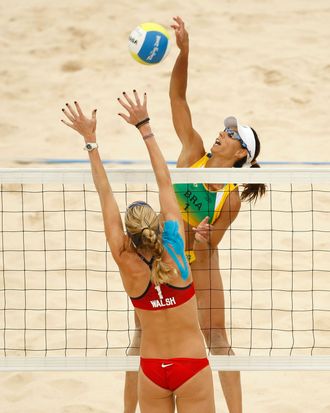 Ana Paula Conelly of Brazil and Kerri Walsh of the United States at the 2008 Olympics.
Photo: Streeter Lecka/Getty Images
Female beach volleyball players traditionally haven't been allowed to wear anything more than a bikini at the Olympics (their male counterparts wear shorts and tank tops, sadly). But now the International Volleyball Federation (FIVB) has deemed it acceptable for female players to wear shorts and sleeved shirts, should they be feeling modest about their steel buns and washboard abs. "Many of these countries have religious and cultural requirements, so the uniform needed to be more flexible," said FIVB spokesman Richard Baker. Of course, bikinis are still perfectly appropriate for those who want to wear them. Now, what can we do about nixing that pesky shirt requirement for the guys?