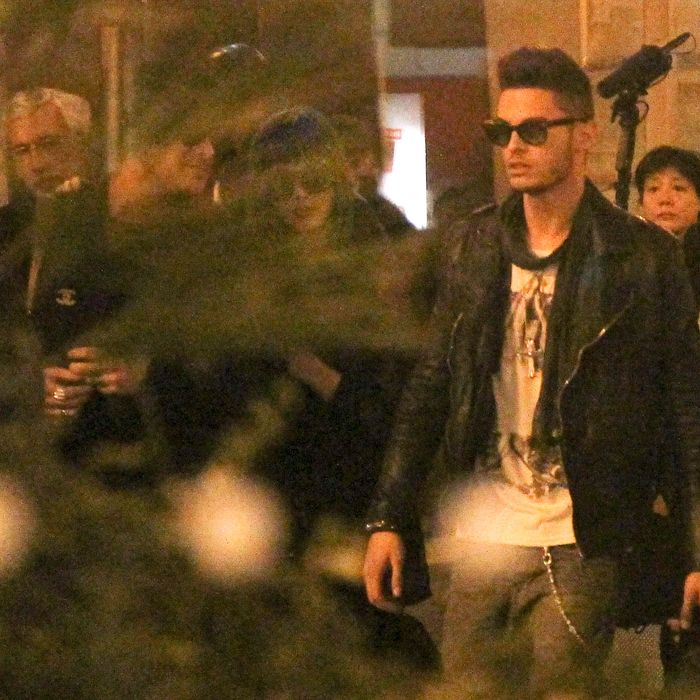 That's Katy behind those palm tree fronds.
Photo: Splash News/? www.splashnews.com
Because ten days' worth of time in the "Are they, aren't they?" world of likely fake celebrity relationships is more than long enough for even the most tantalizingly brilliant rumors to fade like a bad blue dye job, Katy Perry and Baptiste Giabiconi have been spotted out together again. And while it wasn't on the way to the altar, it's surely enough confirmation that they are indeed 2012's best new maybe-real-but-probably-just-a-PR-inside-joke couple. They've even earned the honor of a mashed-up nickname and will forever now be "Baptity" in our hearts. Fondly.
Paparazzi caught the pair disembarking from a Eurostar train ride together in Paris last night. (That's Katy hidden behind those pesky palm tree fronds.) And having been snapped just a few, slightly blurry times together — the money shots, of course — Baptity then went to great lengths to stay out of each other's frame. That's tough work considering one's a model and the other is, well, Katy Perry; they're obviously dedicated to each other the cause at hand. Perhaps they'd rescheduled their date at Place Vendôme after the fire there earlier this month scuttled their plans, but let's hope they've something more romance novel-worthy lined up — because, after all, their very coupling is the plot of Harlequin's finest come to life.