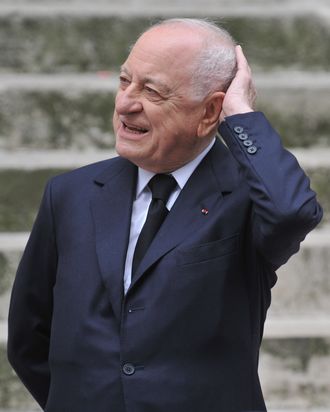 Pierre Bergé.
Photo: Pascal Le Segretain/2008 Getty Images
The Yves Saint Laurent retrospective exhibit, shown at Paris's Petit Palais last year, travels to the U.S. this week! And it'll be shown in … Denver. Now, we don't have anything against Denver, which is a gorgeous city (yes, we've been, and yes, we've visited the Denver Art Museum, where the exhibition will be held), but it's not exactly one of the world's fashion capitals. So what made Pierre Bergé, the head of Saint Laurent's foundation, choose that particular venue? Bergé explains to the Times:
"Denver asked me. Voilà!" 

Has he ever been to Denver? "No," he said. "I never go to the mountains."
Well there you have it! In related news, Bergé feels pretty good about Hedi Slimane replacing Stefano Pilati at the label:
"It's a great problem, very complicated, to recreate the work of a genius. Like trying to rewrite Faulkner," Bergé said. "To put your stamp on the name of Yves Saint Laurent requires someone who has talent, conviction, rigor, a demanding nature and a great sense of color."

Bergé called Slimane "a man of talent who can preserve the genius and legacy of Yves Saint Laurent."
So presumably Slimane — unlike his predecessor — will get an invitation to the exhibit's opening party.