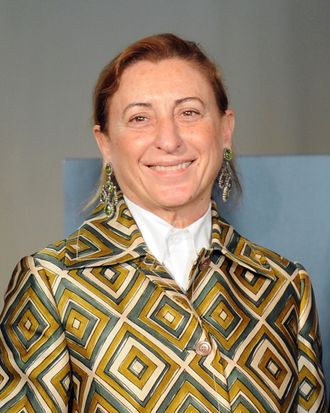 Italian designer Miuccia Prada poses during a press conference announcing the 'Schiaparelli and Prada: Impossible Conversations' exhibition on February 24, 2012 during the Women's fashion week in Milan. The exhibition, curated by Harold Koda and Andrew Bolton and sponsored by the Conde Nast publishing group, running at the New York Metropolitan museum of art from May 10 to August 19, 2012 will feature iconic costumes and approximately 90 designs and 30 accessories by Italian designers Elsa Schiaparelli (1890–1973) from the late 1920s to the early 1950s, and by Miuccia Prada from the late 1980s to the present.
Photo: OLIVIER MORIN/AFP/Getty Images
Okay, the exact phrase chief executive officer Patrizio Bertelli used to describe the first twelve months of its initial public offering in Hong Kong was "best ever year." (Please get with the meme.) According to WWD, the brand's net profit increased 72.2 percent to $600.3 million, and revenue went up 24.9 percent to $3.54 billion.