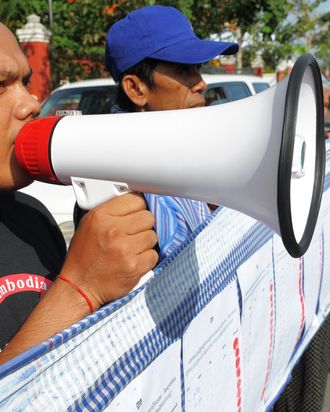 Protesters in Cambodia.
Photo: TANG CHHIN SOTHY/AFP/Getty Images
Well, this sounds terrible: On Tuesday, members of a garment workers' union were demonstrating on the street outside their factory in Phnom Penh, Cambodia, when they were reportedly attacked by the police. Mouen Tola, a local specialist in labor law, tells WWD, "Three women [were attacked while marching] on the road, though only one was seriously injured … She was beaten on her face and chest and sent to a clinic." The factory that the women were protesting, Win Shingtex, reportedly produces clothing for J.C.Penney Co., although neither party has commented on these reports so far.