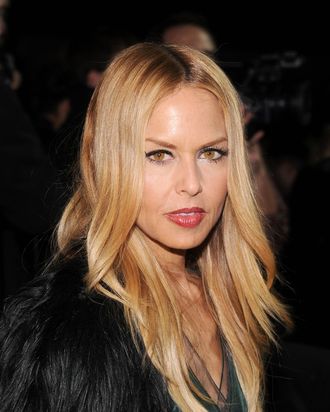 Rachel Zoe.
Photo: Jamie McCarthy/Getty Images
The Hollywood Reporter didn't include Rachel Zoe in its new list of powerful stylists —  because she's now "too big to rank." Instead, Zoe warranted a solo feature (and glamorous photoshoot, natch) in the magazine's latest issue. In the profile, she talks about baby Skyler Berman (nicknamed Sky Sky), the continuing expansion of her fashion brand, and her thoughts on A Brad, Brad World: "I won't ever see it … I don't think it matters enough to me, to be honest."
There's also a mention that she's in talks with Bravo to bring back The Rachel Zoe Project for season five: "I do love being on television and in peoples' homes. I'm not an actor, so there is a connection that's real. … But I also think, 'Are people sick of it? Is it time to do something new?'" With that in mind, the network is developing a "freshened-up concept" for a potential fifth run — so maybe Rachel will be forced to style blindfolded, or hire Betty White as her new assistant. (Okay, that's when reality TV–themed dreams come true.) THR reports an announcement confirming the new season could come as soon as next month at Bravo's fall upfront event.