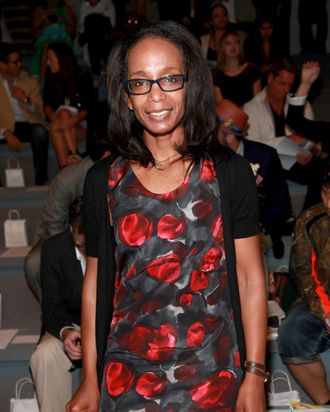 Robin Givhan.
Photo: Astrid Stawiarz/2010 Getty Images
It's a never-ending quandary for fashion press: criticize a designer's work, and you can forget about an invitation to the next show. Gush about it, and lose your integrity. No one knows this better than industry veteran Robin Givhan, who wrote a lengthy story for Newsweek back in January that proclaimed Karl Lagerfeld to be "overrated." As always, she backed up her statement with lots of research and interviews, and her conclusion was thoughtful and measured. She was also careful to explain the weight of Lagerfeld's achievements, adding, "This pronouncement is not meant to imply that the German-born Lagerfeld isn't supremely talented and culturally influential."
Lagerfeld reacted to the story by saying he'd never heard of Givhan (who, in 2006, became the first fashion writer to ever win a Pulitzer prize, but no matter). Meanwhile, Givhan expected some sort of punishment from the Chanel camp: "I'll wait till I get to Paris and see if a dead fish arrives at my hotel instead of an invitation to the Chanel show," she said to the Toronto Star a few weeks ago. She wound up getting invited, but was banished from her usual front-row spot. "[A] pair of binoculars might have helped," she told the Star. Although her review of the show wasn't positive, it was still thoughtful and fair:
Designer Karl Lagerfeld has been instrumental in keeping the Chanel brand alive and relevant by tapping into shifts in music, social media, and the like. But the Chanel collection he presented for fall was weighed down by his own inspiration, which appeared to be crystals, stalagmites, and minerals … It was a disappointing collection that did little to make the Chanel brand shine brighter. But it will surely keep its bag business going strong.
But back to Givhan's interview with the Star, in which she bemoaned — with good reason — the influx of fashion coverage by writers who do nothing but gush about how much they "want everything!" and "love!" the clothes. She calls these indiscriminate writers "bloggers," but the line between journalism and blogging has become so blurred these days — plenty of journalists have blogs, and many so-called bloggers write for newspapers and magazines — that the term doesn't really work in this context. Anyway, the takeaway is that smart fashion critics are an endangered species these days. Says Givhan:
It's got to be more than just 'I loved it or I hated it,' … You've got to explain your thinking — how you got there. Criticism is not personal opinion. At its best it's opinion based on a set of facts that are set in context. I've seen shows that I've loved but I knew that critically they were not great. And vice versa.
But as Givhan's own experience shows, we're damned if we do and damned if we don't — some writers would consider themselves lucky that a negative review only cost them a seat, instead of costing their employer thousands of dollars in advertising revenue.