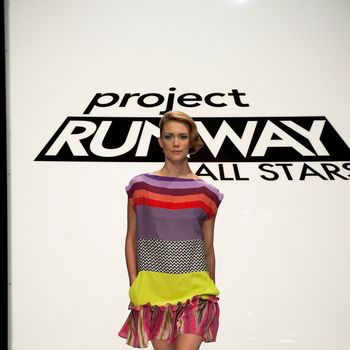 This week's challenge offers a look at the fashion world from the other side of the coin — the final four contestants get a business-centric brief. Nanette Lepore serves as client and guest judge, with the winning look to be sold in her stores. The designs must be easily mass-produced, and cost-effective, as well as "timeless and feminine." Nanette assesses their initial sketches' viability in her studio … except for Mondo's that is, because he doesn't sketch. By his own admission, he's produced a small child's play-school scrawl; Nanette just stares at him like he's crazy and calls his drawing "a tin can with a string attached." Were this Pictionary, she'd win. A fashion appraiser estimates each garment's likely retail price and breaks down the budget for fabrics and trimmings — limited to maximize profits. (And, hey, in this context, math is interesting.) This means Michael can't buy enough fabric to make things three times over, which he's understandably nervous about.
Just before returning to the workroom, Mondo and Kenley argue over the latter's comments about designers who can't or simply won't sketch. They're both right — yes, it's a process that works for Mondo; yes, it's also a trait that will limit his career potential within larger design houses — but that's no fun in the reality TV stakes, so there's a passive-aggressive little standoff. Mondo stomps around even grumpier than usual, and a teary Kenley eventually offers an apology, otherwise things would have been too awkward to bear in an elevator's close quarters.
Nanette also joins Joanna for this week's workroom crits; Kenley keeps cutting and sewing while listening to the introductory pep talk, causing Joanna to take the classic "I'm talking to you" line right out of your fourth grade teacher's book of student-shaming tricks. You'd think she'd be commended for making best use of the challenge's inevitably tight time frame, but that's not the case at all. It's suddenly very important — after nine episodes of this very characteristic being downplayed by an apparently reformed character — that we remember Kenley has an attitude. Why could that be?!
Michael's work-in-progress receives the best response from Joanna and Nanette, despite the fact that his dress can't be worn with a bra. Austin and Kenley both get knocked for their garments' shapes; Mondo's semi-realized design garners middling feedback — but he's still grumpy. Someone needs to push his bed against a wall so he can only wake up on the right side of it. His mood slightly improves the next morning, perhaps having taken our aforementioned advice, and he pulls his stripey shift-dress together. Michael, Kenley, and Austin all get their looks finished for the runway, too, though in Austin's case, barely. All, as usual, find time to talk lots of smack in confessional — though in fairness their comments may well have been filmed out of sequence. (The best one-liners always come once you've had time to sit back and let them ferment a bit.)
Perhaps inevitably given the RTW focus, the runway looks aren't a lot to look at. The most interesting aspect is the reminder of each garment's suggested retail cost that flashes across the screen as they walk — all four seemed like they'd be very tough to market successfully at their estimated price point. Cue the judges. Despite its cloying over-simplicity, the panel rhapsodizes over Mondo's shift dress and its quirky balance of prints. Yes, he gets the win again. Austin scores second place for his taffeta wraparound coat despite its lackluster runway presence, and Michael scrapes out the third finalist spot for his beachy keen kaftan. (Our best guess: watch the placements in next week's finale match this order.) This left Kenley, auf'ed in that cruelest fourth-place spot. Though it's a decision we didn't agree with, she took it in her retro-platform-heeled stride nonetheless, and that's to her credit. (It's also in stark contrast to this week's forced bitchy edit.) But we won't be long without our fix of Special K, because previews for next week's episode show that she pops back up with all the other eliminated designers amid the frantic finale madness — yay! Also: a full runway show in four days!? Surely not, Runway, surely not — we know how this conceit worked out for 24 Hour Catwalk.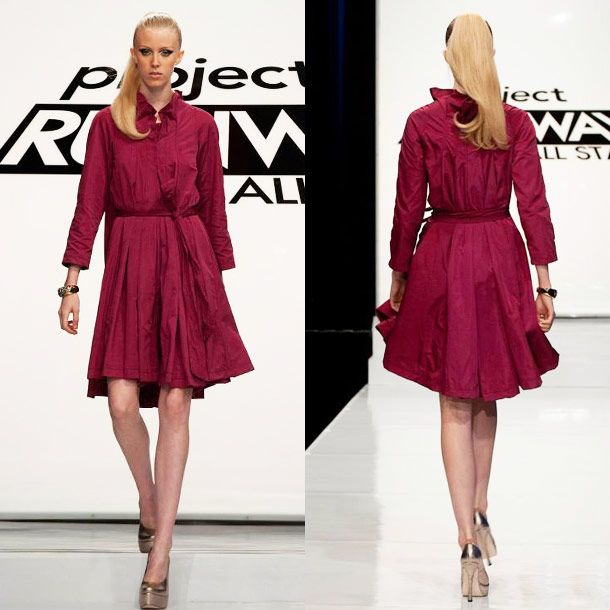 Austin Scarlett
$500 for this crumpled coat-dress seemed like a stretch to us, despite its apparent versatility. And all the judges agreed it's a piece that works much better in a retail environment than on the runway, which is all very well and good when you're there but useless for those of us judging it through a TV screen. Then again, who hasn't been rooting for Austin Scarlett's well-deserved spot in a Runway finale since season one? We loved (to hate) Wendy Pepper as much as the next giddy fan, but it's fair to say she stole his spot in the endgame.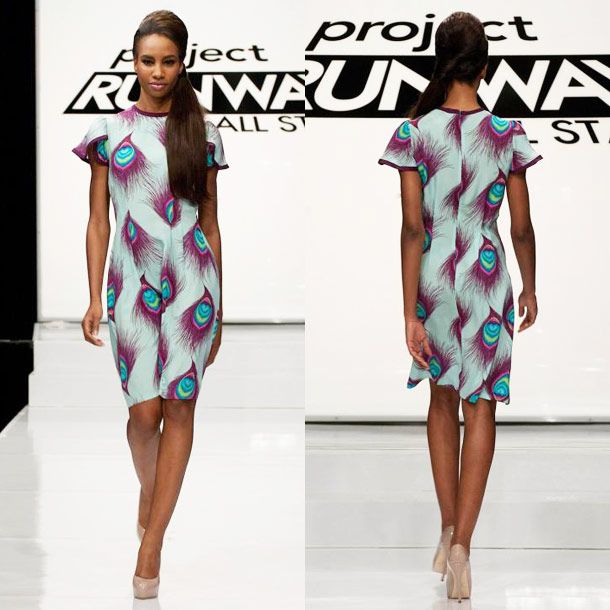 Kenley Collins — Auf'ed
Considering all four designers appeared to deviate from their preliminary sketches, it seemed Kenley bore a bit too much criticism for nixing the keyhole cutout her look initially incorporated. (That icy crit with Nanette certainly did Kenley no favors.) But, sadly, the judges' other issue was a given: Her feathery printed fabric just didn't line up at the seams, and with pleats and darts all over, the discrepancies were glaring. And as an issue that had come up during previous runway judgings, Kenley couldn't really expect to be cut any slack for her slack pattern-cutting.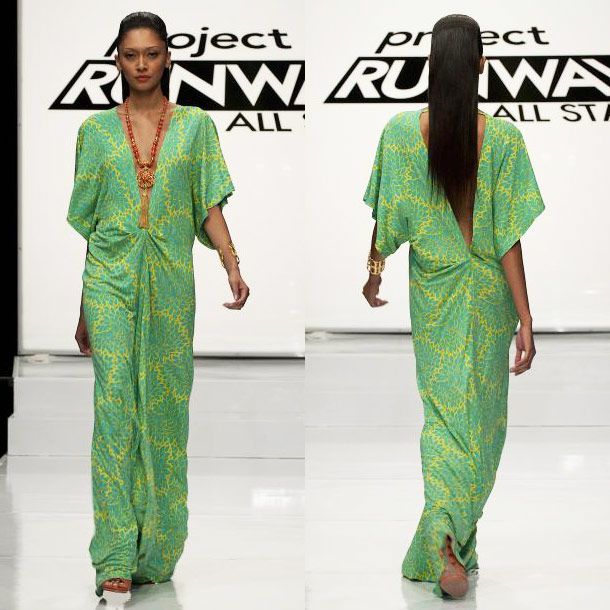 Michael Costello
Would you notice if we recycled our caption from previous weeks' analyses of Michael's work, to save time and all? Because, you know, the judges didn't seem to notice Michael recycled his design almost entirely, just in a bolder lotus flower pattern. He's been consistently lucky his model (Top Model even) Leslie can sell the heck out of his looks — and it seems like the judges had started to notice that tonight. That can't be good for his chances next week, considering how enamored they are with his co-finalists.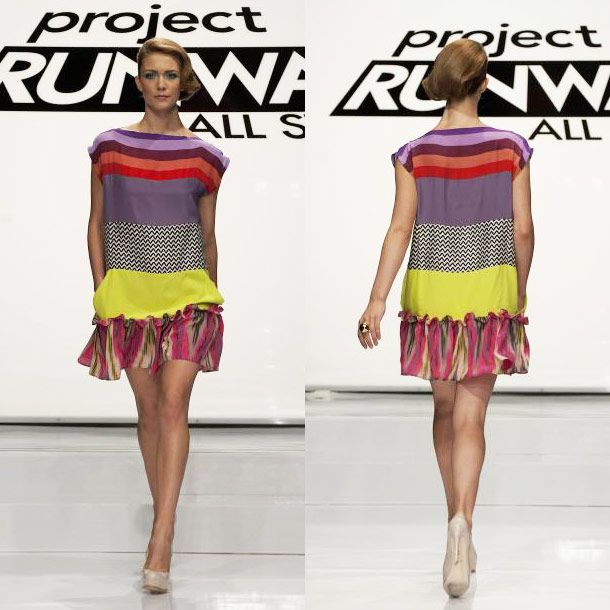 Mondo Guerra
We felt Mondo's dress looked like a fashion student's starter project: The one where your technical instructor makes you machine stitch a big pile of fabric scraps together to ensure you can sew straight, even seams. And the thing is, though it might just have been how the dress hung on his model, it didn't even seem like Mondo could sew in straight lines. (Deep, dark confessional: At fashion school, we couldn't either.) The color scheme, the print balance, the twee ruffling at the bottom panel, it all seemed off-kilter in that way Mondo normally hits perfectly but just didn't this week. It's a good thing we're not the judges, because for us the tough decision wouldn't have been between anyone other than Mondo: whether to keep him based on his prior strong performances, or to auf him for what we viewed as a cheap-looking, shapeless mess.