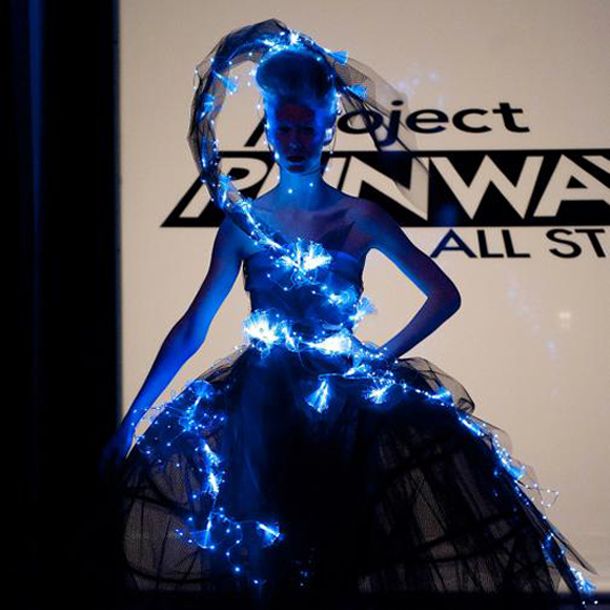 Right on schedule, this week presents another late-game "avant-garde" challenge for the final five All-Stars. Of course, understandably, they're all far too worn down by the Runway grind to do anything particularly innovative — season after season, the producers don't seem to notice this. (Or perhaps they do, and realize they're just nudging the almost-finalists closer and closer to histrionics.) This time, the designers must incorporate neon lighting, fairy lights, and other fiber optics into their garments, so their runway looks flash and glow in the dark as they walk for the judges.
This meant double the shopping trip–themed "fun," first at a special lighting store, and then at Mood. Kenley goes $400 over budget on fairy lights and cables, and somehow her sparkling personality doesn't elicit the discount she needs. (In fact, she can't even get the lighting store's owners to knock $6 off her $300-plus purchase.) Back in their workroom, it's not long before Joanna arrives for crits — but it's still long enough for Michael to change his design, oh, say, six or seven times. She cautions him to avoid unfinished and unrefined details in his rushed look(s), but also warns Austin not to go too romantic, and Jerell not to end up with fringed pieces too reminiscent of a Christmas tree. None heeded her advice — an unfortunate mistake for two of the three designers. 
Outside the studio (yes, somehow the designers manage to find time for breaks), there's a "meet the family" moment when Austin Skypes his Mom — his first time using the computer program. This makes sense, we suppose, because we like to think Austin communicates in long, calligraphic poems written on scented parchment in sky-blue ink, rolled and tied with delicate scraps of vintage silks, and sent via violet-colored doves trained like carrier pigeons. He's just so romantic and old-school like that. That aside, it's sad news for Austin: His Mom's house has been foreclosed upon. We're left wondering why such a ploy for Austin-themed sympathy would be edited into an episode so late in the season? (Dare we say it doesn't bode well for his placement as one of the inevitable finalists?)
After those tears, there's the obligatory series of snarky confessionals (as usual, the designers mostly think each other's work sucks) and then it's time for the runway, which we noted this week takes place back at Parsons, a few blocks away. Do the models get some runway practice on their walk there? Or do they have fun squeezing themselves and their oversize peplums into cabs instead? We'll never know. However they make the journey, they arrive, the lights dim, and the five looks shine.
Kenley's Minaj-esque look and Austin's whimsical starscape get the highest scores from the judges, and Austin squeezes out another win. Jerell's tribal grandma and Michael's arcade-game ninja fall into the bottom two spots. This means, yes, Jerell takes the fall — because Michael's definitely finale-bound. And with Mondo and Austin looking close to unbeatable, given their respective runs this season, things aren't looking good for Ms. Collins next week.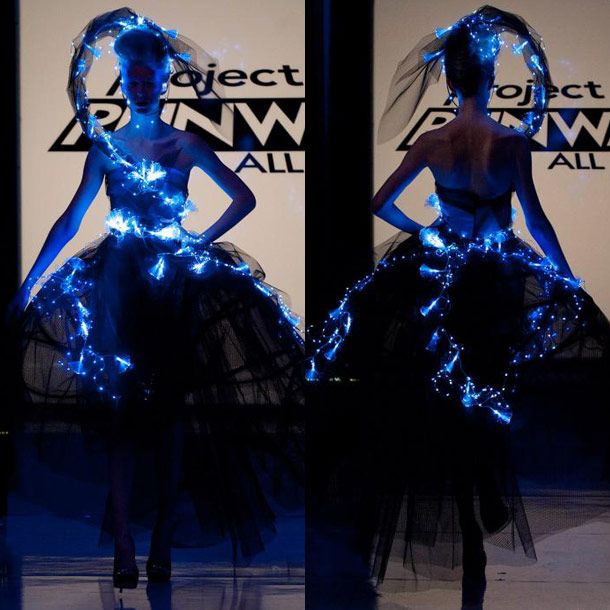 Austin Scarlett — Winner
Gosh, Isaac must have been so annoyed he already threw that "Austin Starlet" pun out a few weeks ago when he saw this look walk. It's little more than a sculptural tulle dress (an Austin Scarlett classic) with fairy lights draped on top, but compared to the garish excess elsewhere, celestial refinement deservedly won out.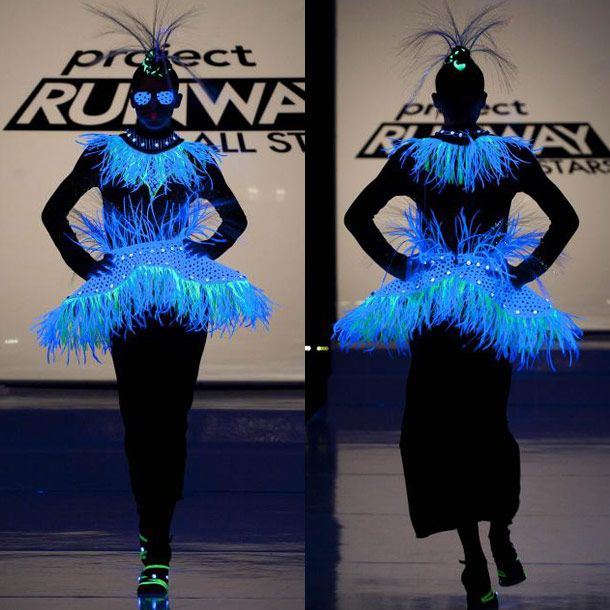 Jerell Scott — Auf'ed
Of all the designers this week, Jerell certainly attacked this challenge with the most gusto — incorporating actual lighting (and an actual bulb even, in his model's mouth) much more so than any of his competitors. Look what it got him: an auf'ing. From early in the design process, Jerell seemed to know his look would end up "either fabulous or fugly," and, well, it's pretty evident which F-word won out. (The sunglasses were great though, and totally appropriate for a Pharrell-esque music video.)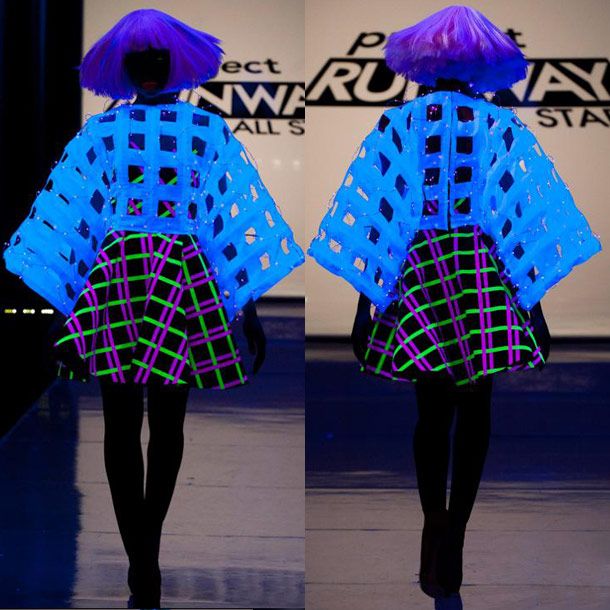 Kenley Collins — Top Two
Of the four futuristic outfits presented this week, Kenley's design looked light years ahead both in terms of its style and its finishings. (Yes, that might be because she makes similar skirts each week, but still.) Her use of neon tape was quickly copied in the workroom, but not to such great, graphic success; even up against the winning look, we'd argue her use of fairy lights had a better effect — adding fluidity and accentuating the draping in a jacket just nicely reminiscent of a cyber-prison's straitjacket.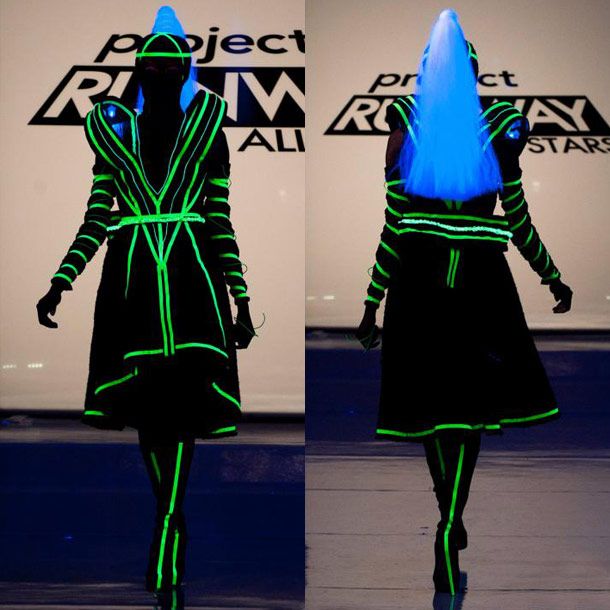 Michael Costello — Bottom Two
If you listened very carefully while the judges critiqued this look, you could hear whispers of "Halloween ninja" this and "crazy, techno lady who offers you pills at an eighties rave" that, as if the ghost of Michael Kors just couldn't hold back. And when the TRON remake's costume department call to get for their samples back, it won't just be Mondo's design they're asking for, it'd be this, too.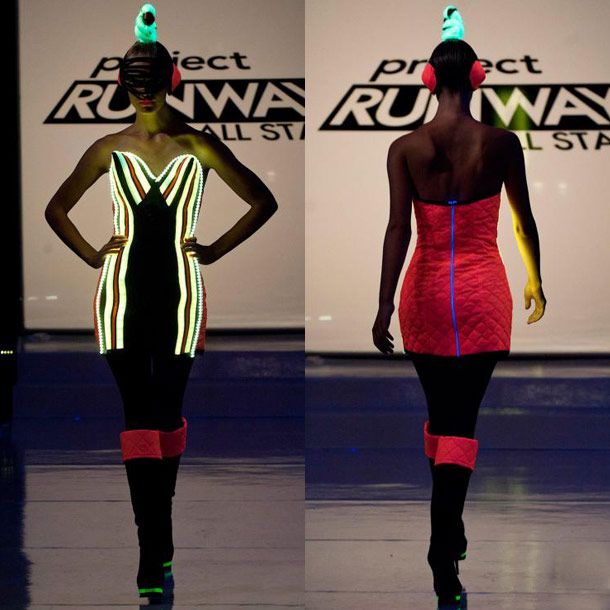 Mondo Guerra
Why does Mondo's model have a glow-in-the-dark maggot coming out of her hat? This half-hearted look presents other questions, too, but certainly none nearly as pressing as this one.