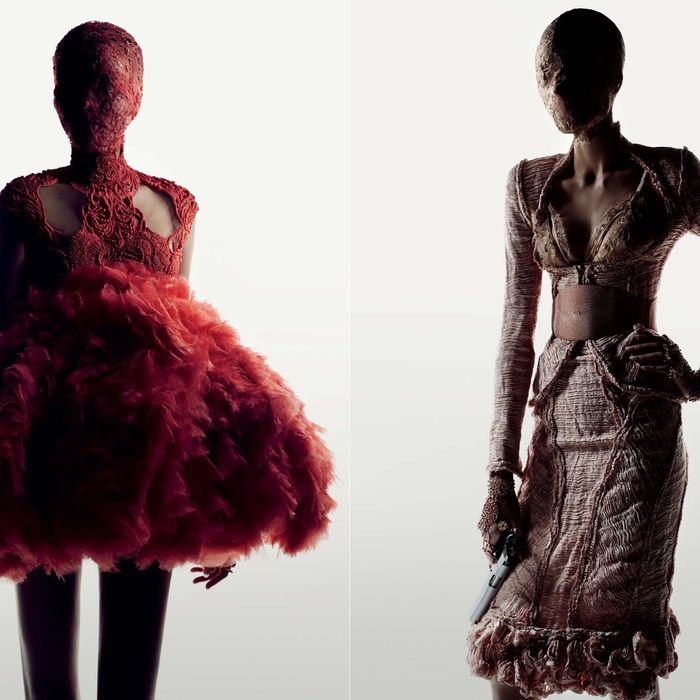 McQueen spring 2012 designs, photographed by Fabien Baron.
Photo: Fabien Baron, David Burrton/Interview Magazine
Noted Alexander McQueen enthusiast Sarah Jessica Parker talks to Sarah Burton in this month's Interview magazine, and they cover many of the usual topics — who is the McQueen woman, etc. — plus some new ones, like how Lee McQueen tested Burton when she first started working for him. Apparently one night he left Burton, then a new assistant, with a half-completed dress and told her to finish it, causing her so much distress that she called up her mom in a panic. (Now, of course, she remembers it fondly as a "teaching moment.")
I remember he pinned it on the stand, and it looked amazing. He had sort of half sewn it and he said, "Oh, I'm going out now. You can finish that." and I remember thinking, I can't possibly do that! I called my mum immediately. I was like, "Oh my god, well, how am I gonna finish this?" and she said, "Just get on with it." What was so amazing about him is that he made you think that anything is possible. He made you challenge yourself all the time, which is why I loved working for him. Nothing was ever impossible. And that was amazing to be around. Completely inspiring.
Burton got her foot in the door at McQueen because one of her teachers at Central Saint Martins was a close friend of Lee's. She interned with him during school and was hired after she graduated. To this day, she's amazed that she got the job.
I was quite shy. I wasn't the trendiest girl at college. I just loved what I was doing. I loved research at the time. I think I was always in the print room working.
And speaking of shy, she still won't talk about Kate Middleton's wedding dress.
Um, I mean … I'm not actually allowed to talk much about it at all. It was a precious, magical time that I'll always treasure, and I feel like she gave me a gift in many ways. I feel incredibly privileged.
The interview is accompanied by photos of Alexander McQueen's spring 2012 collection, shot by Fabien Baron, as well as portrait of Sarah by her husband, photographer David Burton.