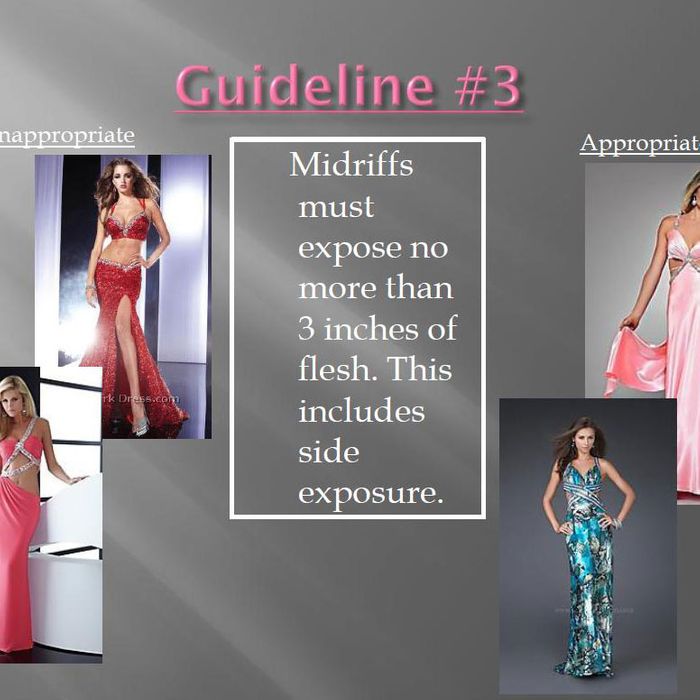 Courtesy of West Laurens High School in Dexter, GA.
This just in: Prom attire isn't always very classy — and an apparently increasing number of high schools across the country have had enough. Prim and proper educators are now cracking down on risqué and revealing gowns prior to the big night with long checklists and delightfully lo-fi PowerPoint slideshows explaining just what is and isn't acceptable. This means measuring hems and necklines with special rulers and assessing dresses for temporary alterations made just to get through the door. Some schools even enforce dress code contracts, which students must sign to have their attendance on the big night approved.
It's the slideshows that offer the best style guidelines. (In a rather damning assessment of her students, an algebra teacher at one school enforcing a dress code confirms, "Words don't mean much to them … They had to see the pictures.") WSJ showcases a selection of rules — the photos likely culled from a Google image search for "sexy dresses" — providing dos and don'ts on just about every aspect of promgoers' gowns.
Hemlines must be no higher than three inches above the knee, necklines no lower than five inches below the neck's base. Midriffs must be covered, backless dresses and those cut-out sections elsewhere are also a dodgy area; skirt slits must not run higher than the "mid-thigh area." Visible underwear is a no-no, as are colored contacts and unnaturally dyed hair. And poor Carrie Underwood is, presumably, personally banned from the prom at Georgia's Cedartown High School — she's on their image list of unacceptable dresses in a sparkly black mini.
There are some restrictions for the guys, too — beards, rat tails, and hair below the earlobe are all banned, as are sneakers, canes (really?), and saggy pants. Also, from Southmoore High in Oklahoma City comes the expectation that male students keep their shirts on all night. "We don't care that you work out," state their rules. So, save your six-packs for the after parties, if you know what we mean.