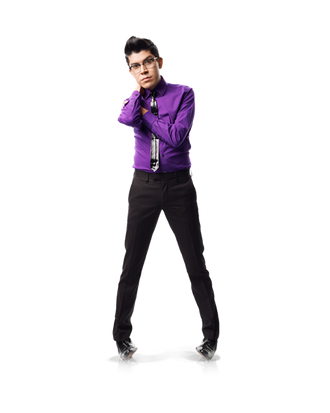 Mondo Guerra.
Photo: Lifetime
The grander-than-grand Project Runway All Stars finale aired last night, and after three fashion shows of a quality far higher than you'd expect from four frantic days of work, the judges awarded Mondo Guerra with the well-deserved win. (A decision which, not to blow our own shiny trumpets too loudly, we predicted a few weeks ago.) Between mouthfuls of his hearty breakfast, we spoke with Mondo this morning about the show and the roller-coaster journey it took him on, his fellow all-stars, and where you're likely to find him — other than Marie Claire's offices, that is — when he makes the move to New York pretty soon.
Might as well get the most obvious question out of the way — how are you doing today, your first "official" full day as Project Runway's all-star champ?
I'm good. I'm actually eating breakfast while I'm talking to you.
I trust you're treating yourself to Champagne and caviar.
Well you know, my personal favorite [breakfast] is kind of a One-Eyed Jack, so it's like Texas toast with a fried egg in the middle, with potatoes. I would really love a pork chop, but that's a lot of work.
So is this hearty meal to help you get over a wild party celebrating last night's good news?
Yes, we had a wonderful viewing party at a place here in Denver. There was carnival games, there was stilt walkers, a photo booth, and streamers, and a LED dance floor. It was so much fun. We had a really great turnout; I think there were upwards of 600 people there. And it's been really fortunate for me to have the visibility, coming off of Project Runway season eight and then again from All Stars, to really give back to my favorite charity — the Denver Colorado AIDS Project. A portion of the proceeds from last night went to DCAP, and I got to present them with a $25,000 check from a benefit that we held for them during the season.
The finale was filmed way back at the end of last summer. Has it been difficult sitting on the fact that you knew you won?
Oh definitely. I've had dreams of being on that final runway … and it was always a different outcome. Sometimes Austin won, sometimes Michael won. Sometimes Rami was there; sometimes it was Gordana. Always different, and I'd wake up, like, "Didn't this already happen? Why hasn't this happened yet? I'm going crazy."
Were there any moments you slipped up and told people?
No way! I'm really good with a secret. Some people have no shame, they'll just come up to me and be like, "Did you win? Do you know?" And it's really funny to respond, just saying, "I don't know, you'll have to watch the show." Even today I know people will come up [to me] and be ask, "Did you win?" I'm going to have this built-in need to say, "I don't know! You're gonna have to watch the show."
Did you jump at the chance to return for All Stars when Lifetime asked?
Well my immediate response was like, "Hell yeah! I want to do it." But then, say, a day or two later I was like, "Oh shit. What did I just do? What am I thinking?" When I was actually on set on the first day, I just thought, "Ugh, what am I doing here?" You know? "Why am I here again? Why would I want to put myself through this again?" It was really tough — an emotional roller coaster.
That came across — did you find that "roller coaster" affected your creative process?
Definitely. I still don't know if I was intimidated by the competition or … if I just wasn't ready to do it, you know?
So were you thinking you'd win, or just going along for that roller coaster ride?
I think, well, I knew going into season eight that I wasn't taking part just to be on a show, I was going there to work. I was going there to show off my skills, to share my point of view with the viewers, and to share the experience with other designers. You know, it's amazing to think that there are all these really talented young designers out there, and to be on a show and share that experience and that professional opportunity — it's great. It was really just an opportunity and a platform to exhibit my talents. All Stars was the same. I didn't [come back] expecting to win. When you expect things and they don't work out, it's really painful … and it can mess things up for you, mentally, before you even get started.
You had an amazing run this season though. Was there a moment when you realized you were a contender, or the contender?
Like I said last night, you always want to visualize the best situation. I wished it. Especially when we were in the final three, and I took that day off, I really started visualizing what I wanted to show. That's how I go into every collection: I can see it coming down the runway, or I can see it on that girl. You know? Beyond that I was just really focused, not necessarily on winning, but really on producing a collection that was accessible, and that definitely had a story to it. That's all there is to it. I just wanted to work. I'm always happiest when I'm producing, so that was just another opportunity to enjoy the process.
As a whole cast, everyone seemed to want to just enjoy the process, and work hard. Was that surprising?
It was really great. I was so impressed that everybody was so talented. We produced best runway shows that I've ever seen on any of the seasons, consistently. Every single week it was really, really good. And when Rami got kicked off, say, that's when you really realized, "Wow, nobody's safe here." As talented as these people are, and as you think you might be, you know what? You realized that does not guarantee anything. It's much more based on challenge-to-challenge. That was really an opportunity, and a wake-up call to really push myself and start tackling it full-force. I think that really lit a fire under my nonexistent ass.
Were you able to predict who would go home after each challenge accurately?
We never knew what was going to happen. And you know what I loved about this panel of judges: It wasn't really about personality [for them]. It was really based on work. Isaac and Georgina gave really constructive critiques. They really had an opinion about something, but when they gave an opinion they gave a reason for it … unlike some other judges.
I thought it was really cool that [the producers] hired a new panel of judges and a new mentor, because it was really a clean slate. We had already experienced Heidi and we'd experienced Nina and Michael and Tim and we all loved them, but it felt like they gave us all an opportunity to do something unexpected for ourselves. That was really smart.
It seemed like you got on really well with Joanna Coles, in particular.
More than anything, I found Joanna to be a great therapist. [laughs] We'd have our talks, and she was always very honest. She's an editor, a top editor, you know? She has a very honest, professional approach to the workroom, and I think she was really using [her crits] as if we were on her team. She always wanted the best for all of us. She'd definitely share her opinion, and the wonderful thing about Joanna is that she gave us the space to do our own thing; she wouldn't necessarily put ideas in our head because I think she understands a designer's process.
And now as part of your prize package you have a guest editor spot at Marie Claire, working with her some more.
I'm so excited about that!
Does that start immediately — will you be making the move to New York City?
Yeah, Joanna is always teasing me — we talk maybe every other week – and she's always asking, "Have you moved yet? You need to move to New York now. What are you doing in Denver?" I'm excited about every aspect of the job, when it starts up, but I'm really excited about going to all the runway shows with the team during New York Fashion Week.
Going into the show we didn't know what the prizes were. It wasn't until the first day of filming that we heard about the prizes — we were in shock. And that was really hard, because while it makes you want to be more competitive and work harder and do bigger things, it can also derail you right off the bat. It's hard to focus on the work after hearing that.
How about the fact that all the challenges this season were so tough — and so short. Were you ever able to focus, given their time-frame?
You don't have time to think. You just have to work, work, work, work. It's not a matter of stopping to say to yourself, "Oh, I only have ten hours." Even that's a waste of time. Don't think, just do it.
Was it frustrating to have to use part of that time to doodle, basically, because you don't sketch?
Well, it's part of the rules, so I had to do something for half an hour. I would just draw hearts and stars and penises. [laughs] I need my fabrics to really be part of the design — I want the fabrics to lend themselves to the whole idea, and if I sketch something, it's kind of already definite … That's why I'm a creative person, because I enjoy challenging myself and the process that comes with it.
Was there a challenge that became your favorite because everything fell into place?
Nothing ever falls into place! So I would say I loved the Broadway challenge, because I do love theater. I'm one of those. I listen to Broadway productions nonstop in my studio and sing along with the doors wide open and the windows open.
They'll love that at Marie Claire. And hey, that's another reason to move to New York!
I hope now I'm offered a walk-on role in a production.
Get yourself into Godspell. That's the least they could do after using your costumes.