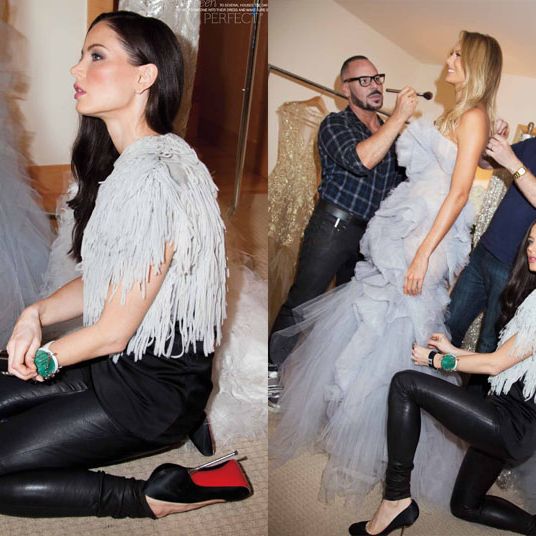 Stacy Keibler and Georgina Chapman, shot for Style.com/Print by Roxanne Lowit.
Stacy Keibler wore a shiny gold Marchesa gown — to match the Oscar statuettes, presumably — as George Clooney's date to the Academy Awards this year. But hold onto your hats, folks: Apparently she came thisclose to wearing a different dress instead! (Yes, it's a slow news day, if you were wondering.) In an exclusive preview of Style.com/Print's second issue, you can see her trying on the alternate gown — a very Marchesa-esque cloud of grey tulle and ruffles — as Georgina Chapman kneels at her feet in shiny leather pants and super-high Louboutins. You know, just a regular ol' Sunday afternoon for everybody.
You might think that Keibler and Chapman had endless conversations during the dress fitting ("You look beautiful!" "No, you look beautiful!" "I'm starving!" "I know, can you bah-lieve the bar at the awards ceremony only serves those gross turkey sandwiches that you actually have to pay for?" etc.), but instead, their banter went like this:
"Stacy, do you like a corset?" Chapman asked as she worked.
"It doesn't matter," Keibler said. "I like everything."
Well, perhaps that does sound about right.