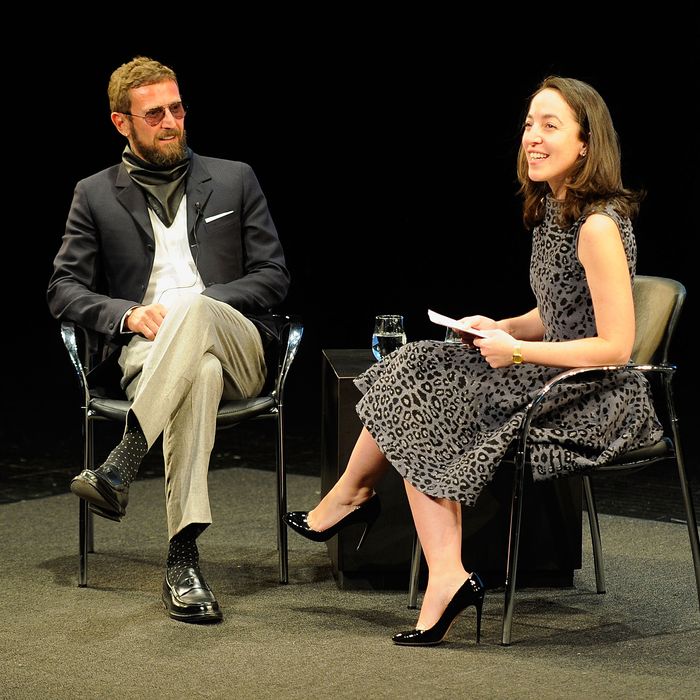 Stefano Pilati with Pamela Golbin at the FIAF 2012 Fashion Talks Series
Photo: Andrew H. Walker/2012 Getty Images
Stefano Pilati took the stage last night at the French Institute Alliance Française in front of a crowd that included Joseph Altuzarra, Iris Apfel, and Derek Blasberg. FIAF's selection of the designer for its Fashion Talks series was either strategic or serendipitous, since Pilati stepped down as creative director of Yves Saint Laurent exactly four weeks ago. Glenda Bailey, editor-in-chief of Harper's Bazaar introduced him using his own words: "Stefano once said, 'You can find greatness everywhere, you just have to look.' Well, here's looking at you, Stefano. We can't wait to see where your journey takes you next." Presumably, many people came to the event to find out where that might be — one audience member even asked Pilati to hire her when he starts his own line, assuming he will — and while that question remains unanswered, Pilati offered up plenty of entertaining responses to moderator Pamela Golbin's questions. See what he had to say about his current state of mind, working at YSL while Yves was still around, and dealing with the press's oftentimes unrelenting criticism.
On his current state of mind: Absolutely great. I'm really good, I'm really happy. I didn't think it would be possible to feel happy under this kind of circumstance … I'm here and all these people are interested in listening to me — what more do you want?

On working with Tom Ford at YSL: Let's not go there. Challenging is not the right word. It was traumatic! It was tragical. No, no, it was great, of course, it was great. You know what, Tom has such a self-confidence that you can really absorb it — he has enough for everyone around him, and I definitely got it. I was like, yeah, give it to me! I question every single moment of my life — about myself, what I do, what I say, what I didn't say, if my idea is good or not good, you know. So imagine, somebody who actually brings me there and gives me a lot of responsibility. It was an amazing relationship.
On working for YSL while Yves Saint Laurent (the man) was still living: Oh yeah, I forgot about him! … It was pretty complicated, I have to say … In 2008, when he passed away, a lot of people started to ask me, 'Do you feel that something has changed or is gonna change now that he's not alive anymore?' And firstly I said no, you know I've always tried to do my best, but in fact, it [had] changed. I could really feel it. The fact that his physical presence wasn't there anymore, in a way, gave me a sense of freedom.

On not taking fashion too seriously: You know, we can live without fashion. We can live very well without fashion. If you like fashion and you embrace fashion and you want to wear fashion, well, good for you. In the sense that, it's a good gesture to yourself, and it's a good [image] to project … There's a lot of politics involved, a lot of diplomacy involved — it's like, who are we saving here?
On his greatest achievement at YSL: [When] Tom left, the company was not in good shape; actually, it had a lot of losses. And the aim was to have the house profitable … so, I focused on that, I put aside my ego, I put aside my freedom, and I work hard to also respond to what the market was asking for … I started to do [accessories], and it was successful, but also I enjoyed it. I enjoyed the design aspect … I was in the learning process. I think what happened between 2004 and 2012 is that there were an amazing eight years of a learning process. The house [has been] profitable since 2008, and I don't feel like I sacrificed [any]thing.
On his lowest point at YSL: No low point. It would be blasphemy to say there's a low point. I live an amazing life in Paris, I've been loved by many colleagues and collaborators. I have the chance to work in fashion — to be in fashion is a privileged place.
On criticism from the press: I think it's normal. I think it's the way it has to go. I mean, to be controversial makes people think. That's important … At least controversy makes people stop and have a few questions. It's not synonymous with mediocrity to be controversial. I think it fits me … I'm controversial with myself … Obviously, you do a collection and you think you're the best; in the world, there's no comparison. Then it doesn't happen, and you need to re-settle a bit, come to terms with your reality. Obviously it doesn't make you happy.
On what's next: Lots and lots of vacation. No, what's next is important. Again, I find myself with this amazing experience, and I want to use it for something that makes me feel that I'm part of this moment and era … I'm pretty sure that I have the energy and the knowledge at least to try to do something relevant.