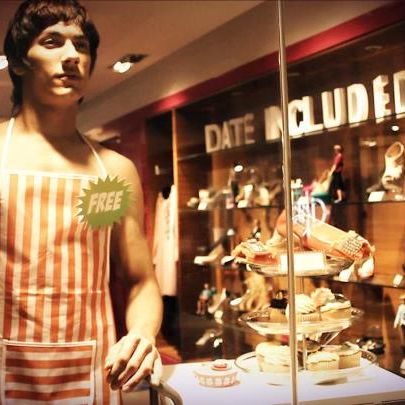 Yikes.
Photo: Shoes Shoes Shoes
A sketchy-sounding shoe store in Kuala Lampur, Malaysia, has teamed up with a local dating service to match up shoe-hungry women with sugar daddies who are willing to fund a shopping habit. The store, fittingly named Shoes Shoes Shoes, explains on its Facebook page:
Imagine this. A man knows your taste for shoes and he buys them for you. A dream come true? Well, it is! Find everything your heart desires at Shoes Shoes Shoes. 
Just buy a pair from a special selection of shoes and get a date for free with a guy who likes your choice. Lunch Actually, Asia's premier lunch dating company, will match you with an eligible bachelor and arrange for the two of you to meet. Here's the best part — you can enjoy a discount of 10% or more off the shoe price, courtesy of Prince Charming! Still don't believe in fairy tales? We can assure you that we're not kidding. 
So, are free shoes and a free lunch worth sitting through a date with a dude who probably has a foot fetish and chose you because he approved of your footwear? Obviously not (because ew!), but … admit that you can think of at least one friend (ahem) who'd be easily convinced if the right shoes were at stake.
Things you buy through our links may earn Vox Media a commission