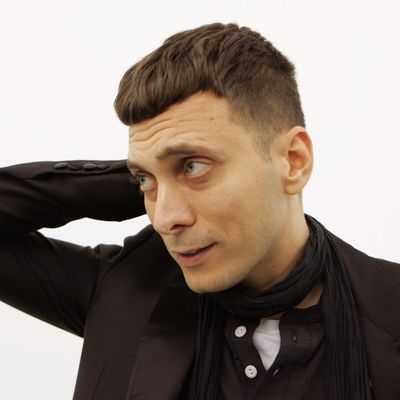 Hedi Slimane.
Photo: Miguel Villagran/Getty Images
Stefano Pilati took his final bow for Yves Saint Laurent just yesterday, and today Suzy Menkes confirmed what everyone suspected: Former Dior Homme designer Hedi Slimane will take over as the label's creative director. She got the news from an unnamed PPR executive, and says the house will make a formal announcement tomorrow.
Pilati hasn't said anything yet about his future plans, but he leaves YSL with his reputation intact. Cathy Horyn deemed his final collection "not an especially moving sendoff," which pretty much sums up his tenure. There's never been any doubt about his talent, but his unease with the house's legacy was evident in his work. Horyn elaborates:
He is sophisticated, knows about fabrics, and is daring in a way that gets results. But he was never the right person for Saint Laurent. He struggled with Mr. Saint Laurent's legacy and with the colors, and he generally overthought the sexy bits.
Hopefully Slimane, so renowned for his sharp suits and impeccable tailoring, will shoulder YSL's heritage with more bravado.
Related:
Stefano Pilati Out at YSL
Stefano Pilati at Yves Saint Laurent: A Retrospective