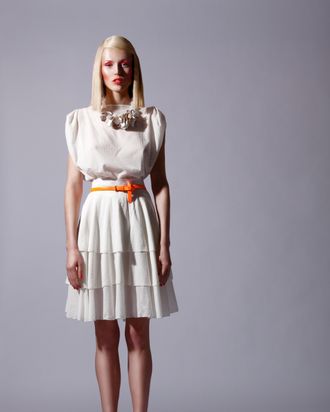 The novelty!
Photo: Savchenko Julia/Savchenko Julia
It was one of those blissfully warm spring weeks, the kind that makes you temporarily forget that summer won't be here for a few more months. You probably engaged in various gleeful spring activities like eating outside, leaving your coat at home, and tweeting pictures of tree blossoms. You might even, in a fit of optimism, have dragged out that dusty cardboard box of summer clothes and proclaimed, "Time for these again!"
If that was the case, what did that box contain? Normal summer fare like sundresses, shorts, and skirts, probably. But little did you know: Those unassuming skirts, sitting patiently in your closet and waiting for winter to pass, took on a whole new meaning during their hiatus. According to the Times, skirts are poised to become a trend of epic proportions:
"The skirt has become the new hot toy for women to play with in fashion," said Marshal Cohen, the chief analyst with the research firm NPD Group. For the first time in six years, he said, "consumers are thinking, If I'm going to update my wardrobe, I'll put my money on a skirt."

Though it is still early in the season to tally sales, reports from stores indicate that the prospects for skirts are strong.

"It may be too soon to talk about a boom or even a boomlet," said Aaron Hoey, the general merchandise manager for women's apparel at Anthropolgie, "but we're all anticipating something big."
So huge is this nascent trend — and so overwhelming in its promise — that retailers can't even decide on what style of skirt will dominate. Instead, just any skirt will do! The more skirts the better! Skirts, skirts, skirts!
Such an embarrassment of choices seems a lot to take in, bewildering even some pros.

"We spent so much time wondering which length or trend would dominate," [Catherine Moellering, executive vice president of the trend forecasting firm Tobé Report] said. "Would mid-calf skirts mean anything? Would the maxi gain traction? Would it be a high waist or low, a pencil or an A-line?" Such questions, in retrospect, seem meaningless, she said. "The answer is yes, to all of the above."
Of course, perhaps we shouldn't make too much fun of this skirt fervor, because isn't it nice to know you're ahead of a "trend" before it even exists?