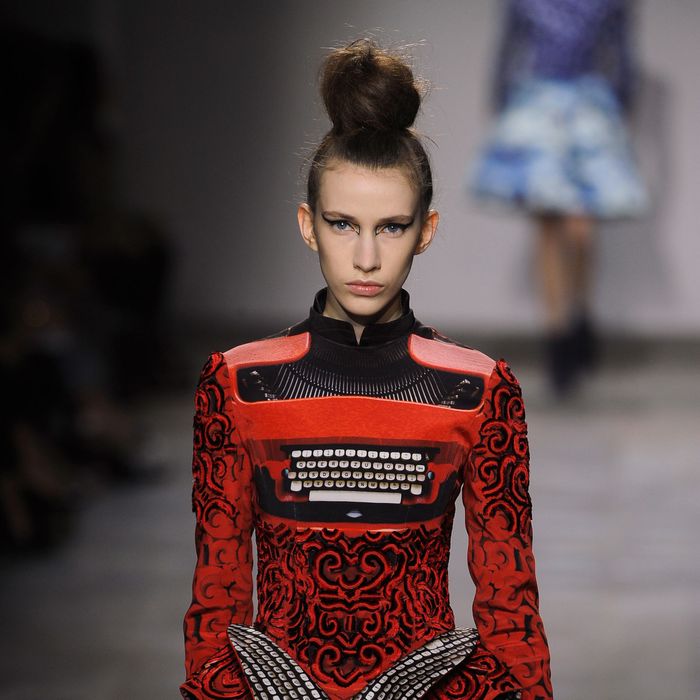 Photo: Alessandro Lucioni
Mary Katrantzou's fall 2012 collection, which walked in London last month, included a bright red dress with an intricate digital print of a typewriter across its bodice. The typewriter in question: a modified Olivetti Lettera 35, previously owned by Geneva-based collector Adwoa Bagalini. An "enthusiast of a largely forgotten technology," Bagalini really likes typewriters, and blogs about them near-daily on her site, Retro Tech Geneva, championing their contemporary value and relevance.
A fellow typewriting fan forwarded details of Katrantzou's collection, and Bagalini recognized the print as being almost identical to a typewriter she'd owned previously — or, more specifically, of a photo she'd taken of said typewriter back in 2010 for a blog post, and later, an eBay auction. (Bagalini eventually sold the machine only because she had another of the same model, one that had "more sentimental value.") There had been some alterations to the image — its label removed and the keys made much more prominent, among others, so she emailed Katrantzou's studio to ask:
Mary was quick to respond to my inquiry, and confirmed that my picture had been used as an inspiration for her design, which she painted digitally from scratch before integrating it into a print that was used for her now famous dress. It appears my red Lettera 35 is in great company in terms of items that have inspired prints for Mary's clothing: in the past, she has also referenced Fabergé eggs, Qing dynasty bowls, and iconic perfume bottles.
While Katrantzou hadn't asked for the rights to her image prior to using it, Bagalini notes in her post that "this one dress represents a very small part of her entire oeuvre, so if she needed a picture of a red typewriter to make her collection complete, I am glad I could help out, even inadvertently." And as a proper thank you, Katrantzou offered to make Bagalini her own version of the typewriter dress — Bagalini said yes, of course, though she adds that "it will be quite the departure from my usual simple wardrobe." But she'll be the most fashion-forward attendee at the next typewriter fans' get-together for sure, not to mention that Katrantzou's line currently sells on Moda Operandi for between $2,000 and $5,000 a look — so a well-compensated happy ending all around!