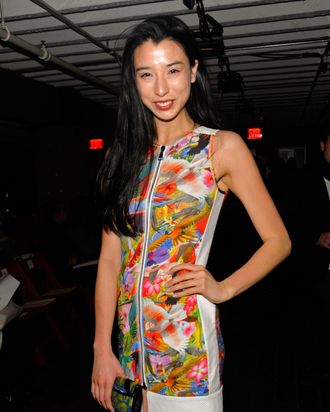 Lily Kwong, not wearing Joe Fresh.
Photo: Rabbani and Solimene Photography/Getty Images
The glossy sent Lily Kwong to Joe Fresh's Flatiron store to buy a spring look for less than $150 in under 30 minutes. The "model, Columbia University student, and self-confessed bargain shopper" was familiar with the brand's offerings, recently confusing her friend's JF biker jacket for Balenciaga — "When she told me it was $50, it honestly blew my mind." During her mission, Kwong picked up flat-fronted shorts, loafers, Breton-striped shirts, and a "great minidress cut from signature orange scubamaterial," all priced in the double digits, before trying it all on and finding herself faced with a fashion letdown.
As someone who favors formfitting silhouettes like her cousin Joseph Altuzarra's ultra-sophisticated curvilinear dresses, the voluminous trapeze dress isn't as flattering on as it is on the hanger.
The horror! We're not at Bergdorf's anymore. Vogue never reveals Lily's final picks — or whether she made it out of the experience alive — but she certainly was a good sport, quoted as saying, "You know, I haven't worn short-sleeved button-downs like this since I first moved to New York five years ago. But somehow right now it just feels, well, fresh." Famous last words.