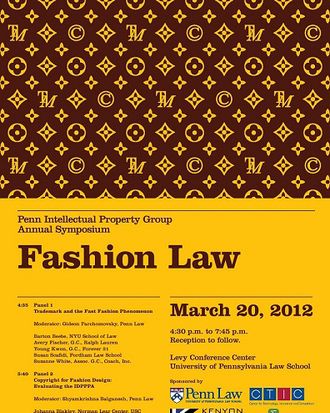 The 'parodic' poster in question.
To promote an upcoming symposium on fashion law and intellectual property, the University of Pennsylvania Law School designed some eye-catching posters riffing on Louis Vuitton's iconic logo pattern. Instead of the brand's initials and Wingdings flowers, they subbed in registered trademark and copyright signs, a nod to Vuitton's unyielding dedication to trademark enforcement. Well, nod all you want, co-eds — a lawyer for the fashion house slapped them with a cease-and-desist order, telling them to stop all use of the artwork in question.
The lawyer writes:
"This egregious action is not only a serious willful infringement and knowingly dilutes the LV Trademarks, but also may mislead others into thinking this type of unlawful activity is somehow 'legal' or constitutes 'fair use' because the Penn Intellectual Property Group is sponsoring a seminar on fashion law and 'must be experts'… I would have thought the Penn Intellectual Property Group, and its faculty advisors, would understand the basics of intellectual property law."
As it happens, the property group and faculty do understand the laws. The university's general counsel explained that while trademark regulations stand, so do laws establishing parody and satire — particularly in instances where the parodic work is for educational or noncommercial purposes. He concluded his arguments in that wonderfully snarky way lawyers often do (at least on TV), with an invitation for Vuitton's camp to attend the seminars and learn more about the issues at hand. We hope they bring their thinking caps — monogrammed, of course.