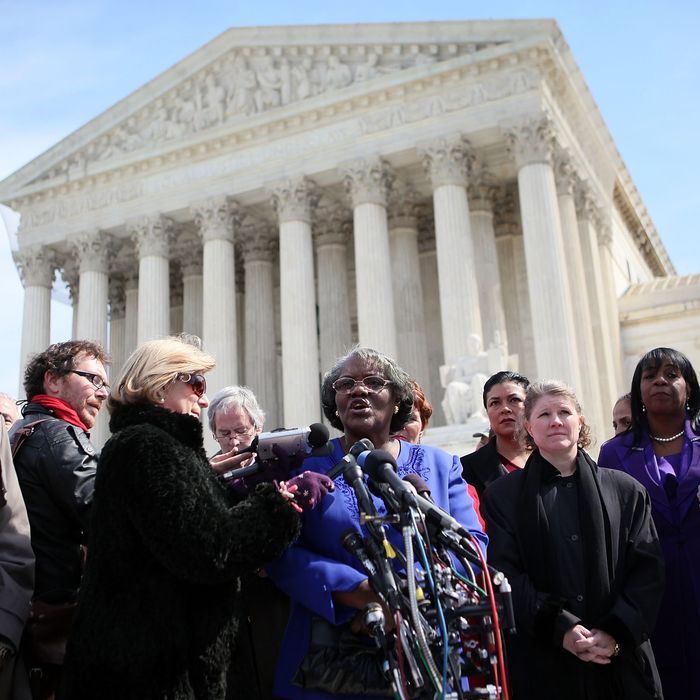 Betty Dukes, center.
Photo: Alex Wong/Getty Images
In its annual Securities and Exchange Commission report, the retailer mentioned that it's seeking the dismissal of two federal gender discrimination class-action suits: Dukes v. Wal-Mart Stores Inc. and Odle v. Wal-Mart Stores Inc. The former, first filed eleven years ago by Betty Dukes after the greeter couldn't get the training necessary to advance to a higher-paid position, "was certified by the district court and then after a series of appeals was decertified by the U.S. Supreme Court in June 2011. The plaintiffs' attorneys filed an amended complaint in October 2011, and Wal-Mart in January filed paperwork to dismiss the action in January," WWD explains. The latter was filed by Stephanie Odle in Texas Northern District Court at the end of last year.
Dukes's case — or parts of it — has been called the largest civil rights class-action suit in United States history. The suit has involved anywhere from 9,500 to 1 million plaintiffs, according to The New Yorker. Previously speaking with the Root, Dukes pooh-poohed any Rosa Parks comparisons, saying, "I'm demanding justice. I want justice for every woman past and present that has been discriminated against. Rosa Parks is an icon of change. We're still working for change. This is a universal movement. Not only will it have significant impact on the lives at Wal-Mart, but it will resonate around the country for change."
And why should Wal-Mart stand in the way of such change? A spokesman for the company told WWD, "We continue to believe that anyone with a legitimate claim should have their day in court." (Just not anytime soon.) He added, "The truth is, Wal-Mart is a great place for women to work."
Spooky smiley faces, People of, and all.