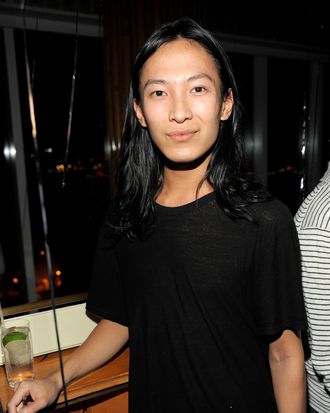 Alexander Wang.
Photo: Clint Spaulding/? Patrick McMullan
The multi-million-dollar "sweatshop" lawsuit against Alexander Wang has been dropped for several reasons, but don't worry — it's very far from over. The plaintiffs' lawyer, Ming Hai, filed a motion on Thursday to discontinue the case without prejudice, announcing that he's relinquished it to a different lawyer who will refile the case in federal court. Meanwhile, Wang's lawyer, Hugh Mo, says that Hai's original case is so flawed that it should be dismissed with prejudice, which would prevent the new lawyers from being able to refile in federal court or anywhere else. Perhaps most interesting is the beef between Hai and Mo that's totally unrelated to Wang: Just last week, Hai issued a $5,000 fine and court-ordered letter of apology to Mo for misconduct regarding an entirely different case that they clashed over in court last year. In other words, it's been a highly entertaining day on the phone with each of them.
On Friday (a day after Hai filed for dismissal), Mo sent a letter to Hai threatening to take legal action against him unless he filed with prejudice. Not only did Hai call Mo "a bully" and deem his threat a "blatant intimidation" tactic, he says Mo's letter is against the law:
It is illegal to retaliate against an employee and their family, friends, and legal representatives for filing a claim [like this]. Under section 740 of New York State human rights law, a former employer… cannot retaliate by threatening the employees who filed the complaint, or the lawyer.
Section 740 actually says that an employer can request reparations for an action brought against them by a former employee, but only after a court determines that that the plaintiff's accusations are indeed "without basis in law or fact." Needless to say, the case hasn't gone to court yet, so this would be difficult to prove.
When we got Mo on the phone, he actually read us the "threatening letter" out loud. He wouldn't allow us to quote it directly, but to paraphrase, the letter states that Hai's initial claims were not actionable (in other words, without legal basis). For example, Hai initially charged Alexander Wang for defamation because Dennis Wang (Alex's brother, who helps run the company) allegedly yelled and cursed at one of the plaintiffs, Wenyu Lu; while such a thing certainly isn't very nice, it technically isn't defamation (thanks, free speech!). Says Mo:
It appears that there is no factual or legal basis for the lawsuit, and that the lawsuit appears to be frivolous, particularly in relation to the allegation that Alexander Wang's business is a sweatshop.
Mo adds that the alleged "windowless, 200-square-foot sweatshop" is actually a spacious 4,000-square-foot work room with ten-foot windows and lots of ventilation — in other words, we should all be so lucky to work in such splendor. The letter went on to say that if Hai didn't file to dismiss the case with prejudice, then Mo would pursue sanctions against Hai, which could result in fines or other penalties from the Bar Association.
As for Hai and Mo's weird history, last week, Hai had to pay the aforementioned $5,000 fine and issue a written apology to Mo for misconduct in a weird-sounding $1.8 billion lawsuit on behalf of former Chinese gymnast Sang Lan, which was settled out of court. Mo believes that Hai dropped the Wang case because he was scared to face Mo again. Of course, Hai insists that he did so purely because he wants the case to be tried at a federal level. Says Hai: "I recommended to the plaintiffs they move [the case] up to the federal court with new lawyers who specialize in federal labor laws. I was not fired or anything like that."
So for now there are no charges on the table at all, but Hai says he has no plans to cave to Mo's threats and that the plaintiffs' new lawyers will refile the charges as soon as they're done compiling the federal case ("very soon," he says). He confirmed that the two plaintiffs-to-be, Flor Duante and Wenyu Lu, are the same as the original suit.
Related:
Alexander Wang Sued for Running Alleged 'Sweatshop' in Chinatown
Alexander Wang Denies Those Sweatshop Allegations