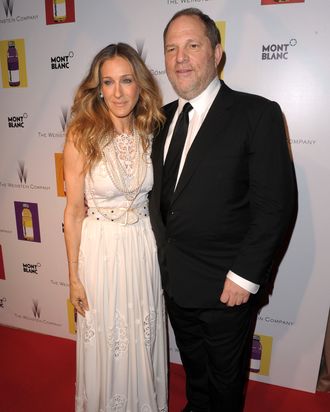 Sarah Jessica Parker and Harvey Weinstein.
Photo: Michael Buckner/Getty Images
Earlier this week, Sarah Jessica Parker admitted she was planning her return to the fashion industry. But her former Halston colleague, Harvey Weinstein, won't be involved in her next venture. "For her sake, definitely not," Weinstein told WWD. In fact, he's not involved in anything fashion-related these days at all: "I'm terrible at this. We've established that the words fashionably-challenged and Harvey Weinstein are synonymous." But he does have a positive impression from his brief foray into the industry. "It's less bitchy than I thought it would be," he says. Aw! Clearly he never had to deal with … well, never mind.
Related:
Sarah Jessica Parker Plots Her Return to Fashion 
Confirmed: Harvey Weinstein and Marios Schwab Out at Halston