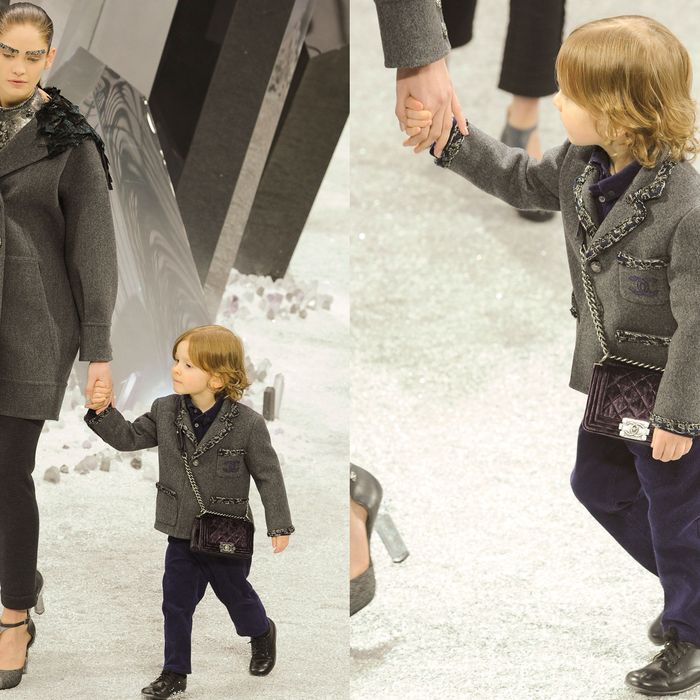 Some people are just born with it.
Photo: Alessandro Lucioni/Imaxtree
At the tender age of 3, Hudson Kroenig has already usurped his father, male model Brad Kroenig, as Karl Lagerfeld's latest muse. He appeared on the Chanel catwalk for the second time in his career yesterday, clutching the hand of model Heidi Mount while his dad watched nervously from the front row. Apparently stardom has already gone to little Hudson's head, according to the Times:
Upon meeting the young star, and Mr. Kroenig, too, for coffee and juice in the hotel bar the other day, it was easy to see that the golden-haired tyke was born with a natural modeling ability. It was possible, even, that some passers-by thought him a bit of a diva.

"I want to order!" Hudson said. "I order food. I want a hot dog! And cake!"
"He's never even had a hot dog," Mr. Kroenig said. "You know, we make him eat healthy."

"I throw yuckies on you!"
So really, it's no surprise that he and Karl get along.
Related:
See the Complete Chanel Fall 2012 Show
Highlights From Chanel: 2-Year-Old Male Model Debuts, Ines de la Fressange Walks, and More