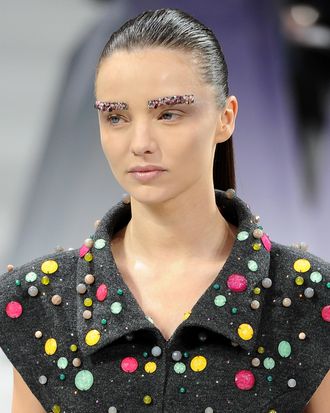 Miranda Kerr in Chanel's fall 2012 runway show.
Photo: Pascal Le Segretain/Getty Images
NAILS
• Exposure to UV radiation during gel manicures has been linked to skin cancer in two people. [WP]
• A woman was jailed for ten hours after painting her nails on a plane. (When the flight attendant told her to stop, she went to the bathroom to finish the paint job.) Here's what she had to say: "I said, 'I'm sorry, I apologize,' and I put it away. About ten minutes into the flight I discovered I only had two nails left to paint, so I thought if I went in the bathroom and did it, it wouldn't offend anyone." [Refinery29]
HAIR
• A beauty editorial for Indonesian Marie Claire's March issue includes very tall hair and blue nails. [Design Scene]
• Brazilian Blowout manufacturers have agreed to settle a class-action lawsuit for $4.5 million. Under the terms of the agreement, consumers who were harmed by the product will receive a $35 payment for each treatment (up to three total), and stylists will receive $75 for each bottle of the product they bought. Plus, the straightening product can no longer be marketed as "formaldehyde free." [NYT]
PERFUME
• Kim Kardashian's fourth fragrance, True Reflection, hits shelves this month.
MAKEUP
• Julianne Moore tells Ellen DeGeneres how she became Sarah Palin for the HBO film Game Change. "It's makeup," she says. "Her eyes are so large — big, brown eyes — we made the iris on the contact lens larger than my iris so that my eyes would look bigger … We drew my lips differently, it was sort of shaded, I had a wig. And then there are the mannerisms too, she has very distinctive mannerisms." [HuffPo]