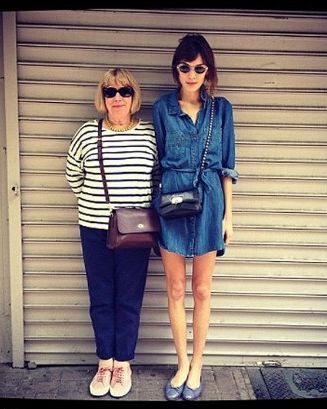 Alexa's "controversial" Instagram photo.
Photo: Alexa Chung's Instagram
When Alexa Chung posted a photo of herself with her mom on Instagram last night, so many people commented on how thin and "unhealthy" she looked that she chimed in herself:
Hi, I am here. I can read. Ok everyone thanks for the teen angst discussions. People are different sizes. I'm not trying to be thinspo for anyone [sic]. I am now making this acct private. Byyyyyeeee.
Both her Twitter and Instagram accounts are now private. Chung has always been thin, and she's defended her weight quite a few times before. Back in January, she told OK! magazine:
I don't expect everyone to like me, but I cannot express how frustrating it is not to be believed when you say, 'I don't have an eating disorder.' … It angers me because I don't want to be a pin-up for young girls just for being thin. I don't want to be admired for being thin, as opposed for being dressed well, and I don't want the two to get confused.
Unfortunately for everyone, those characteristics have been confused for far longer than Chung's been around.